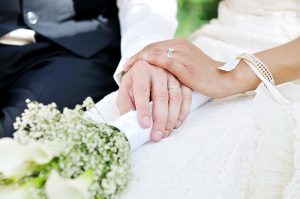 By Liesel Schmidt
Just imagine it: A historic, charming old church with a white clapboard siding façade studded by handmade stained-glass windows nestled under the shade of ancient live oak trees. Such a calm, peaceful, and picturesque locale could be no more perfect for a wedding; and since its establishment in 1888, Point Washington United Methodist Church has been the site of countless nuptials as couples have come together before its altar to exchange vows of forever.
The building itself is certainly one imbued with history, from its very floorboards to the peaks of its cathedral ceilings. And while it may have had several additions to its original structure, the church is still very much a clear picture of the past, quaint in comparison to so many contemporary structures that now hold worship for congregations all across the nation. For that reason alone, it claims the attention of many visitors each year who come to South Walton to spend time at the beach; but added to that is the interesting back story, as the grounds were originally owned by a former Confederate general who donated the land for use as a church, park, cemetery, and black cemetery.
After more than a century, the church is still very much in use, with a faithful congregation deeply appreciative of its history even as it welcomes the future. But its respect for maintaining a sense of its past is what makes Point Washington such a favorite place for couples to wed—and the pictures offer clear proof of just what makes it such a special venue for The Day of All Days.
Admittedly, its secluded locale at the end of County Road 395 might mean that the church doesn't garner as much attention on the wedding scene as so many others in the area. But such a setting also plays in its favor, as the serenity of its location is one that can't be found just anywhere. "It's become a popular place for weddings because of the setting," says Point Washington UMC administrative assistant Vicky Curtis. "The live oak trees, the great photo opportunities, a beautiful outdoor gazebo—it's all so charming and quaint. It's peaceful here, and we are always restoring it to preserve the beauty."
A "well-kept secret," the church is certainly something to treasure, as the magnificence of the handmade stained glass windows is something often no longer being incorporated into more modern structures—an art whose absence is noticeable by anyone accustomed to traditional church buildings. "They're absolutely beautiful, and such a special part of our church. Really, I think they have a beauty that's moving; and that touches you in a way that's almost beyond words."
Offering a welcoming scent of wood, the historic sanctuary is lined with many pews dedicated to the treasured memories of past members and flooded in the welcoming warmth of its congregants. "We're a very openhearted church," Curtis says. "We love having visitors and welcome the opportunity to show them Christ's love."
Such love is, without doubt, the very foundation of a good marriage. And for couples whose own journey is about to begin, Point Washington offers the perfect place to exchange vows of their love for one another and look toward a future full of promise.
Point Washington United Methodist Church is located at 1290 North Highway 395, Santa Rosa Beach, Florida 32459. For more information, call (850) 231-4928 or visit www.pwumc.org.