By Courtney Murray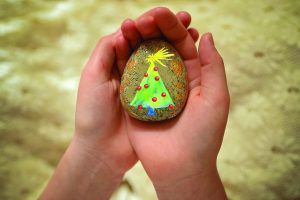 Do you have an inner artist that is just bursting to emerge? Do you have an affinity for the outdoors and adventure? Then you should join the "Destin Rocks" Facebook page and become a part of the painted rock community! This is a family friendly activity this combines art, the outdoors, and scavenger hunting into one that is fun for everyone. Many cities and towns across the country have cultivated painted rock communities and Destin, Florida decided they were ready to join in the fun. The concept is to decorate rocks of all shapes and sizes and hide them throughout Destin. When a person is casually shopping downtown and happens to stumble upon a colorful rock featuring a rainbow and the simple word, "LOVE", their day is instantly brightened. Let your imagination go wild by using paint, chalk, crayons, markers, glitter and more to create your one of a kind work of art. Make sure to use a coat of sealer on top to preserve your piece against the weather. Be proud of the place you call home and sign the back of your rock with, "Destin Rocks 2017". You can also write, "Re-Hide Me" so that the game continues on after your rock has been discovered.
The "Kindness Rocks" movement is spreading throughout the Emerald Coast with local chapters including Okaloosa Rocks, Bolderous Inspirations, Crestview Rocks, Navarre Rocks, Santa Rosa Rocks, Baker Rocks and of course, Destin Rocks. Local rock painters can now join other fellow enthusiasts, or "rockers", for the Northwest Florida Panhandle Great Rock Exchange on November 5th. Come one and all to Liza Jackson Park for the collaboration of local rock communities sharing their art pieces and spreading joy. Bring your painted rock treasures and trade with others; you never know what masterpiece you might come home with.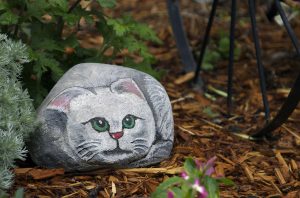 This isn't the first time rocks have become a trend. In 1975 the Pet Rock became the "it" thing. A simple gray rock in a box made creator Gary Dahl a millionaire practically overnight. This goes to show you that the simplest things in life can truly bring the most joy. Now festive painted rocks have been discovered all throughout Destin. Next time you are dining out along Harborwalk Village or shopping in Destin Commons, peak behind the signs and in the bushes and you might discover a treasure. When watching a stunning Destin sunset or playing with your children at Calhoun Park, take a second glance in the sand and you find more than shells. The Destin Library is another hot spot. When searching for the next great page turner, you might stumble upon a painted surprise. Your rocks can be painted in holiday themes, represent sports teams, promote a good cause, have an inspirational quote, or just a painting of an image that you love. This simple act of kindness is making a huge impact on the happiness of communities across the country. This ongoing game is great for all ages from abilities and community members should encourage their friends and family to become a part of this experience and "get the rock rolling" in Destin.