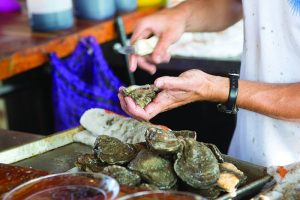 South Walton Shores
Story by Courtney Murray | Photos provided by VisitSouthWalton.com
Nestled along the stunning Emerald Coast of Northwest Florida is a special place known to the world as South Walton, but known to a lucky few as home. This little slice of heaven stretches along the ocean with 26 miles of glistening white sand beaches. 16 acclaimed beachside neighborhoods are speckled with colorful bungalows with picture perfect views of the turquoise waters. South Walton is a premier beach vacation destination where tourists and locals can spend hours upon hours relaxing under the sun with a cool breeze blowing off the water. When your skin is bronzed and it's time to get out of the sun, there are countless activities to partake in. The freshest seafood can be found at every corner, from a local beach shack to an award-winning restaurant. If seafood isn't your fancy, there is every category of decadent cuisine to choose from. When it is time to work off the calories, you can explore the beautiful four state parks, hike trails in a state forest or kayak around 15 rare coastal dune lakes. Then of course there is the greatest adventure of all, swimming, paddle boarding, snorkeling and scuba diving your way through the Gulf of Mexico.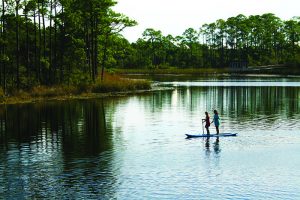 As you drive along the coast you will go through 16 distinctly different but equally as stunning beach towns. There's nothing quite as rejuvenating as driving with the top down in a convertible with the sound of the ocean in your ears and the salty wind blowing through your hair. As you begin your journey, start your day off with a beachside mimosa and brunch beneath the colorful umbrellas in Miramar Beach and then move on to some paddle boarding alongside dolphins on the beach in Seascape. Next up is some shopping along the cobblestoned pathways of Sandestin. Coastal dune lakes are extremely rare bodies of water found in only a handful of special places around the world, and Dune Allen is home to three! Slow down and connect with nature and do some bird watching along the trails in Topsail Hill Preserve State Park. Cruise a little further down and stop in one of the adorable coffee shops and sun yourself on the welcoming green lawns of Gulf Place. Santa Rosa Beach was recently named one of Travel & Lesisure's Top 5 Favorite Towns in America and it is easy to see why. This beach town was founded in 1910 and is a favorite location for dining, shopping, outdoor activities and golfing. Don't forget to stop for some famous ice cream in Blue Mountain along your journey. Grayton Beach is eclectic, laid back and fun. It's the perfect place to stop in and pick up a one of a kind piece of art from the many galleries and boutiques and to enjoy some live entertainment.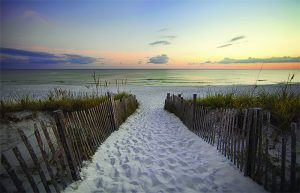 By now you have certainly worked up an appetite and you've stopped in the perfect location, WaterColor. When staying here you can choose from beachside private rental homes or stunning resorts. Just a few steps outside your door are amazing spots to indulge in a lazy afternoon lunch. Neighboring WaterColor is the adorable town of Seaside. Made even more famous by the 1998 film with Jim Carrey, The Truman Show, Seaside is the quintessential beach town complete with pastel homes surrounded by white picket fences. You can spend hours meandering the picturesque streets, stopping in shops for everything from locally crafted jewelry to a fresh coconut to sip from. Rent a beach cruiser and explore the natural beauty of the next three towns of Seagrove, WaterSound and Seacrest on wheels. As you cross through the iconic entrance flanked with perfect palm trees towering above, you know you've entered Alys Beach. With white stucco architecture and Mediterranean flair, Alys Beach is a town that dreams are made of. Rosemary Beach was named by CNN as one of America's most romantic small towns. Park your car because you can walk to everything in this stunning town. Consider staying the night in a gorgeous carriage house, lit by fire filled lanterns at night and where you can spend your morning sipping a latte on your balcony overlooking the sea. Finish your tour at one of South Walton's most untouched beach neighborhoods, Inlet Beach. Snuggle up on a beach blanket with a glass of wine and get ready to be astonished by one of nature's greatest shows, a South Walton sunset.