The Emerald Coast Salutes Our Troops
By Courtney Murray
Red, white, and blue….and green; emerald green that is. The shores of the beautiful Emerald Coast are home to thousands of military families. This area is extremely unique because all five military branches are at work here; Army, Air Force, Navy, Coast Guard and Marines. As you are relaxing on the beach with your friends and family, it is not uncommon to see jets of the United States Air Force flying overhead. Eglin Air Force Base has played a part in airpower history for over 65 years. Valparaiso, Florida was chosen by the Army Air Corps Tactical School in 1931 as the perfect location for a bombing and gunnery range. The open land and dense forests adjacent to the Gulf of Mexico continue to make Eglin Air Force Base an ideal spot for military training exercises. Eglin is also home to many Army soldiers, including the elite 7thSpecial Forces Group and 6thRanger Training Battalion.
Neighboring Eglin Air Force Base is Hurlburt Field, where more members of the United States Air Force work and train, including the 1stSpecial Operations Group. There is also Duke Field, which hosts the 919thSpecial Operations Wing, employing around 1,300 reservists. Located on Choctawhatchee Bay at the east end of Okaloosa Island is the U.S. Coast Guard Station Destin. Commissioned in 1977, their primary missions include search and rescue and a wide range of law enforcement activities. If you hear any loud booms while walking through your neighborhood, it could be the Navy or the Marines training at the Explosive Ordnance Disposal School.
Each military member and their families in our area play a critical role not only professionally, but also within our community. With so many selfless and courageous military members working and living throughout the Destin and Fort Walton areas, it is no surprise that the members of the community are full of military pride. Countless local restaurants and businesses show their appreciation by offering discounts to military members and their families. The famous HarborWalk Village commends our heroes with a red, white and blue celebration every Thursday throughout the summer. There is live entertainment, kids crafts and face painting. The real show stopper is watching the WWII replica fighter planes soaring and looping through the sky as they perform and aerial smoke show high above the HarborWalk Village. The evening concludes with a stunning firework show lighting up the Destin Harbor night sky. It is moments like this that make the people of the Emerald Coast proud to be Americans, and forever grateful for the men and women who fight to keep us safe.
Crispy Warriors
By Courtney Murray
Many years ago there was an eclectic group of men living in a condo complex on Holiday Isle in Destin, Florida. They all came from different walks of life, some civilians and some prior Military including WWII, Korea and Vietnam War Veterans. They banded together over their joint love for America and bacon. Their history dates back to March 5, 2007 when a small group would meet once a week for breakfast at Harbor Docks to swap old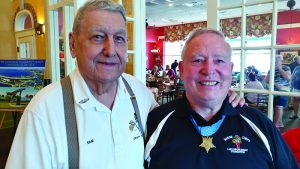 war stories and talk about life. The group's name came from the guy's bacon preference. They all ordered their bacon crispy, so the waitresses started called them "The Crispies" and the name just stuck. Rick Scali, Sergeant in the Marine Corp serving in the Vietnam War, said, "This is the greatest bunch of guys I have ever had the good fortune to be with. My dream has always been to be with these same guys when they were in their prime, 20's and 30's. Their stories never get old, nor does their friendship."The original group consisted of Jerry Stalnaker, Harry Johnson, Evans Heath, George Warren, and Tom Pollard. The group continues the tradition and now meets every Thursday at 8:00am for breakfast at Crackings. They group is a casual crew with no formal bylaws and as always, all U.S. military services are represented and welcomed: Army, Navy, Air Force, Marines, and Coast Guard. "I love the fellowship, war stories, and jokes. As the only Coastie I get the brunt of most of the jokes!" said former Commander of Coast Guard Station Destin Kurt Rommerdahl, BMCM, USCG (Ret.).
The Crispy Warriors are made up of about 75 "members" with 30-35 attending on average any Thursday. Most of the men fell in love with the Emerald Coast while working or visiting here and then stayed or retired. No matter what brought them here, they all love the strong military presence and respect the community has for the military.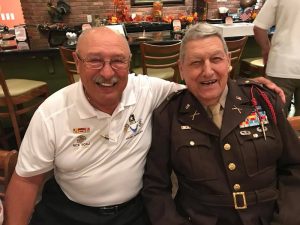 Skip Overdier, Air Force Master Chief (Ret.) described the warriors saying, "They are all true heroes and their stories are sometimes inspirational, sometimes heartbreaking and sometimes even funny. But they always remind me that the 1% have kept America free for the 99% and it's something they would all do over again tomorrow if they needed to."Thisprideful organization of conservative and patriotic men gathers to enjoy camaraderie and keep the faith in promoting the greatness of our nation. Retired USAF Major, Air Battle Manager, Charley Booton served in Just Cause, Desert Storm, and Joint Endeavor and described, "I'm so honored to be a part of a great fraternity of men who spare no expense to share their stories and continue to foster the value that our parents and forefathers instilled in us. At every breakfast there's always an announcement of another community activity and/or venue that brings us all together and/or makes us proud to be an American."
Most of the "Crispies" are prior Military, but there are a few special men like local Jeff Marken who was invited to join the breakfast group by a long time member and has been loving the camaraderie ever since. The warriors that served range from Sergeants to Generals. Civilian members like Jeff Marken and Jeff Carlisi still maintain a strong military background; both having fathers who were pilots in WWII. This is a truly unique group of men. "It isn't every day that we can be so fortunate to not only socialize but also be friends of the same cut. The group is the cream of America's loyal citizens and patriots, said Sam Lombardo, Army LTC (Ret.) who served in WWII Battle of the Bulge.  The Crispy Warriors are brave, they are strong and above all else, they are true heroes and patriots.