The Village Belles
By Courtney Murray
Imagine being transported back in time through music; to a time filled with big band music and military pride. It is a group called The Village Belles that acts as your time machine. The Belles were formed in 2014 by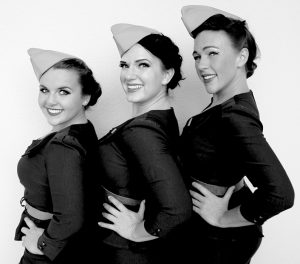 Caroline Majure; a vocal coach with Dreamcatcher Vocal Performance Studio.  At the time, Caroline worked as a performer at the iconic HarborWalk Village in Destin. They began having a Red, White and Blue Hero Celebration each Thursday to honor our military. It made perfect sense to add a patriotic performance to the already successful event, hence the name "Village" Belles. The Belles began with three young, beautiful and talented female singers performing music from the Big Band Era splashed with a few patriotic tunes as well. It was an instant hit. The show has continued every season for four years at HarborWalk Village.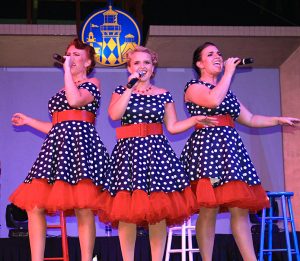 The show has, since then, gained lots of popularity and new additions in performers as well as numbers, giving the group access to more opportunities and venues. In 2017 the show added a quite talented young man who has performed all over the world raising awareness for Autism. "We are blessed to have Reid Soria join us from time to time with his beautiful rendition of American Trilogy," said Caroline. Some of their favorite tunes are the old classic "Boogie Woogie Bugle Boy", God Bless The USA and God Bless America. "One of the most fun for us is "Dear Future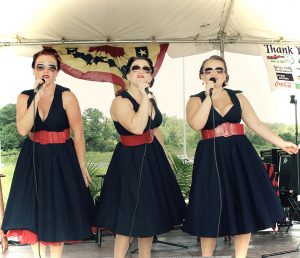 Husband"…this one gives us a chance to HAM IT UP!!" Caroline laughed. "Perhaps the most meaningful performances are actually away from the glitz, glam, and lights as we get to take our show to the people that inspire us the most…the Veterans. Many of them now live in assisted living facilities such as Somerby, Bob Hope Village, and American House," she described. "They absolutely love hearing some of the vintage tunes. The looks on their faces and the love and appreciation they express to us are priceless!"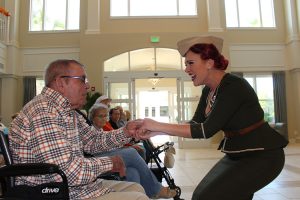 Military pride has so many levels of meaning to The Village Belles individually and as a group.  Several of the members are military spouses and daughters of military service members. Caroline describes, "Our pride runs deep…and runs every day. The sacrifices our military members make, not just on the battlefield, but in their homes are duly noted and we collectively honor that and have such deep respect for all that they give to our country." The show is customized for each event complete with costume changes, choreography, fun banter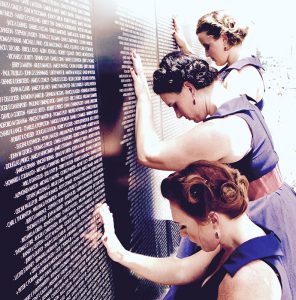 with the audiences, and their signature red lipstick. The lineup starts with classic big band era songs and transitions into a more modern and patriotic feel before ending with one of the best Armed Forces medleys ever, honoring all service branches: Army, Navy, Air Force, Coast Guard, and Marines. Caroline Majure is accompanied by three talented and beautiful performers; Abigail Hutula, Amanda McCardle, and Megan Gorofolo. The Village Belles perform all over the Emerald Coast from festivals and fundraisers to military events, weddings, and birthdays. They are excited about their upcoming performances for Emerald Coast Theatre Company, Somerby Assisted Living, American House, and Mattie Kelly Arts Foundation to name a few. Caroline concluded, "The support of the Emerald Coast has been incredible as we continue to honor our military and their families."
For additional information visit thevillagebelles.com, their Facebook page, or call 770 330-6964.