By Liesel Schmidt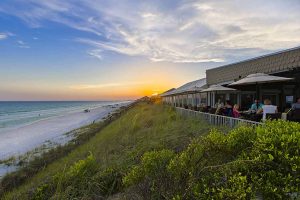 There's a natural marriage that seems to exist between airy, breathtaking views of glittering ocean waves crashing along the shore and the carefree, casual fare of lunch; a freshness and brightness demanded by the hour that only sea, sunshine, and sand could satisfy. It stands to reason, then, that the beachfront location claimed by Vue on 30a is such a perfect dining spot for ladies—and gents—who lunch, as this highly-celebrated landmark restaurant offers cuisine whose beauty and flavor is referential to Vue's unparalleled setting in each and every plate.
After undergoing a major transformation in 2010 to become Vue on 30a, the restaurant originally established in 1969 as The Beach Club was finally given room to breathe, a flood of fresh air and ideas giving rise to new concepts that truly allowed the splendor all around it to shine in its full glory. Now under the deft hand and expertise of French-born former native of New Jersey Chef Giovanni Lucio Filippone, Vue on 30a has become a local gem that draws diners in like an undertow, offering refined cuisine that lightly dances on the tongue and bursts with the essence of nature at its best.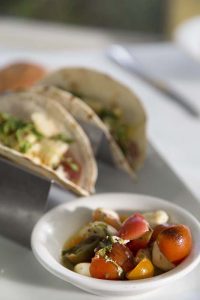 Building on his natural talents and passionate flair, the highly diverse background possessed by Chef Gio has inspired a menu showcasing coastal cuisine in top form, melding together many of the flavors of the South with those inherent to the South of France, livened up just a bit more with some of the Italian influences of Chef Gio's own family heritage as well as some decidedly Asian accents. Somehow, it all makes sense, and his respect for his ingredients and visionary thinking have launched Vue to the fore of the restaurant community along the coast, creating a tidal wave of fresh and unique dishes that pair unspeakably well with the breathtaking, unobstructed views of the sugar white beaches mere footsteps away.
Reflective of Vue's desire to take one's breath away, nearly every item on the menu is made from scratch, using the finest ingredients available to achieve a level of flavor that only freshness and quality can impart. From the sauces to the seasonings, every last detail is a chance to shine brightly, and Chef Gio is unbending in his standard of creating nothing short of excellence. It's that standard, in fact, that keeps the figurative view at Vue one they can enjoy from the top, and so they take the time and care to make everything possible in house and never waver from their pursuit of perfection. Their fish and meats are sourced locally, their produce harvested from local farms. Herbs and aromatics are even grown on-site, as the culinary team loves to take the hands-on approach, handpicking many of the herbs used in their dishes from their very own gardens each day to infuse their bold flavors into every bite and flood the senses.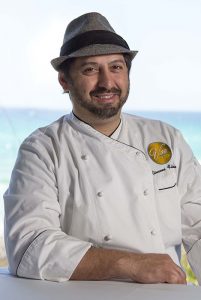 Along with that excellence, there's a certain creativity that runs like a current through the menu, apparent in colorful plates like the Tuna Tacos, a fun twist on two globally diverse cuisines that showcases the natural beauty of this superb specimen of sea-life, teaming sushi grade raw tuna marinated in wasabi cream sauce with diced avocado, freshly-picked cilantro, and diced tomatoes, nestled into soft flour tortillas finished with a squeeze of fresh lime juice. Lunchtime is a casual-yet-chic affair, with light salads that burst with seasonality, sandwiches whose refinement far eclipse the mid-day monotony of so many lunch plates, and entrees with substance to satisfy without overwhelming.
Regardless of the hour, however, Vue offers an exquisite menu boasting the area's finest seafood and steaks, both surf and turf shown off in equal part as the true treasures that they are. They could be nothing less, as Vue sets expectation high, from appetizer to dessert, beginning the minute one steps through the door. "We don't fit your typical mold, and it's our view, our food, and our level of service that makes coming here such a memorable experience for our guests," says Chef Gio.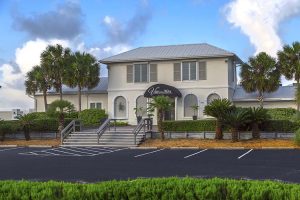 "We want them to think of Vue as the place to come for a special night out, but also one to come for a casual lunch where the staff here will know their name, where they can come knowing that they'll be served the very best food while they're enjoying the very best views of the Gulf anywhere along 30a," he continues.
With such views at their command, one could easily rely on the scenery to carry their success, but Chef Gio and his culinary team are far from satisfied to tread water. Rather, they go above and beyond, taking no shortcuts and leaving no detail overlooked. At Vue, their view is trained on their guests—and seeing satisfaction is a view that takes their breath away.
Vue on 30a is located at 4801 County Highway 30a West, Santa Rosa Beach, Florida 32459. Open for lunch 11:00 a.m.-2:30 p.m. Monday- Saturday; dinner 5:00 p.m.- 9:00 p.m. Brunch on Sunday 10:00 a.m.- 2:00 p.m. For more information, call (850) 267-2307 or visit www.vueon30a.net.
---
Vue on 30a's Watermelon and Feta Salad
Ingredients:
2 slices fresh watermelon
2 oz. feta cheese sliced
2 oz. arugula
Watermelon Mustard Vinaigrette
Directions: Cut a whole ripe watermelon and slice into 1/2-inch thick half-moon pieces. On a grill pan or charcoal grill, grill watermelon for 30 seconds on each side and remove from heat. In a large bowl, toss arugula in a light dressing of vinaigrette and divide between two plates. Layer cooled watermelon slices and sliced feta cheese on top of arugula and finish with a drizzle of vinaigrette.
Ingredients:
1 lb. fresh watermelon, cut into chunks
1 clove garlic
4 oz. olive oil
1 oz. rice vinegar
1 tsp. dry mustard
Salt
Pepper
Directions:
In a blender, add watermelon, garlic, and vinegar and blend until smooth. Add mustard and continue to blend, slowly adding oil to emulsify. Add salt and pepper as needed to reach desired level of seasoning.