Story & Photos by Kay Phelan
Throughout 2017, Destin Commons introduced a new cultural art initiative that invited both local and international artists to create their original mural art on walls throughout the outdoor lifestyle center. Now there are eight colorful, creative and inspiring murals that make great photo backdrops for shoppers to post their photos to social media, as well as adding additional character to the architecturally unique center.
Daniel Fila
Celebrated Miami artist Daniel Fila, an early pioneer in Miami's urban art scene, completed two wall murals at Destin Commons. Fila, also known as Krave, is a multi-faceted artist whose work ranges from mural installations to figurative and abstract paintings, animations and urban sculpture using a range of mediums, techniques and aesthetics. HIs original art murals at the center are entitled "Blue Crab", located on the side street by the Southern Living store, and "The Fisher" that is to the right of Uncle Buck's Fishbowl & Grill.
Andrew Wargo & Keith Jette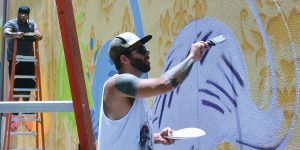 Local artists from Ft. Walton Beach, Wargo and Jette, collaborated to paint their mural at Destin Commons, "Tropical Vibes", a vibrantly colored theme of large flamingo birds wading in water using a mix of air brush and traditional brush painting. This mural is located on the side street wall by Build-A-Bear, across from Abercrombie & Fitch. A self-taught artist, Wargo has been a juried artist showing in the Mattie Kelly Art Foundation's Destin Festival of the Arts over the years. Jette, is the owner of Wicked Paint with his unique custom artwork ranging from automotive, to canvas and tattoo work.
DABSMYLA
Originally from Australia, but now based in Los Angeles, the husband and wife team of DABSMYLA completed four street murals along the paseo wall at the South entrance to Destin Commons. Their series of postcards, entitled "Good Vibes", "Wish You Were Here", "The Friendship" and "Greetings from the Land of Sunshine", are a colorful panorama with the charm of a technicolor world that typify the DABSMYLA unique look they are known for. Their distinctive adventures in wall mural art can be found throughout the country.
Taylor Shaw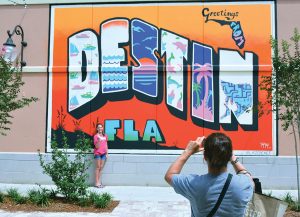 A native of Destin, Taylor Shaw attended elementary and middle school in Destin and high school in Ft. Walton Beach. With an undergraduate degree in painting from Mississippi State, Shaw is currently working on his Masters of Fine Arts in Sculpture at the University of Georgia in Athens. Shaw's colorful mural is entitled "Greetings from Destin, FLA" and is located on the side street wall by Abercrombie & Fitch, across from Build-A-Bear.