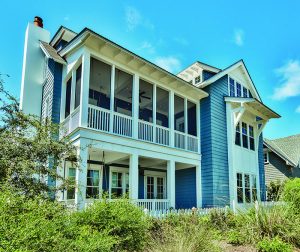 By Liesel Schmidt
White might be the predominant color claiming the rooms of the two-story Klein/Alexander home in Watersound, but it elicits no impression of clinical starkness, no feeling of chilly sterility. Rather, it works in perfect compliment to the coastal colors that flow in, serving as a foreground much like sugar white sands of a shoreline that is lapped with lazy waves of jewel-toned waters. These hues echo those of the beaches mere minutes away from this charming house nestled within a cozy enclave where the hustle of city life seems far away, and that feeling of calm is one of the very reasons that made two sisters-in-law and their families fall in love with the location and begin construction back in 2013. "It's just three blocks off the water—close enough to walk or bike—so we can catch a breeze off the ocean, and the sweet little community offers an amazing feeling of quaintness and safety," says stay-at-home mother of four Andrea, whose husband Dusty works alongside his sister at their family's software business. "It really is such a beautiful place filled with lovely people—it's heaven."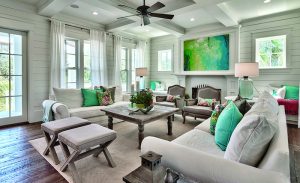 And with heavenly hues of blue trimmed out in white, the Craftsman-style beach cottage offers plenty of space in its more than 3700 square feet. Uniting its multiple rooms is that feeling of coastal chic, complimented with rustic elements like walls clad in white painted shiplap and reclaimed hand-scraped pine hardwood flooring that run throughout, their grey-stained surfaces putting one in mind of driftwood scattered along the shore. So much of this home is an homage to the beach, so much of it designed to offer a feeling of escape and retreat from the everyday.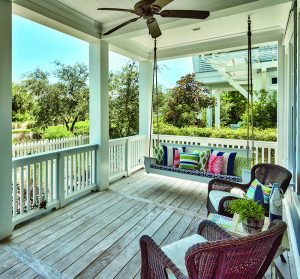 Its four bedrooms are designed with space aplenty, certainly a must in this vacation home where two families of six converge—sometimes in tandem—to exhale and relax miles away from their day-to-day lives in Texas. For the adults, two master suites offer spacious accommodations that marry rusticity and charm with just enough elegance to make them feel worthy of the title.
Perfectly suited to fit the needs of their two large families, the two additional bedrooms are fitted with bunk-space enough to sleep as many as twelve, yet still provide ample room for playtime and fun hangouts. "We always end up in one of the two kids' spaces, with a puzzle or two constantly in the works," says Andrea, whose busy days as a mother are packed in even fuller with decorating projects, charity work, and contract writing.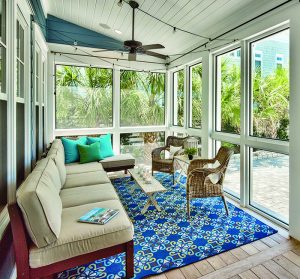 There is a keen eye at work in the finer details here, with fun little touches of personality providing interest and uniqueness that both Andrea and her sister-in-law, Erika, had a hand in bringing to life. "We painted the striped trim on the drapes hanging in both bedrooms on the third floor and sewed most of the throw pillows in the house," says Andrea. "We really wanted to have some fun with the laundry room, too, so we painted a vibrant chevron detail on the wall behind the washer and dryer." Paint was indeed their perfect way to put their own touch on the home, their brushes and rollers taken to task on everything from dressers to tables and even the 12 chairs of the dining room—each of which is saturated in a different shade of blue or green.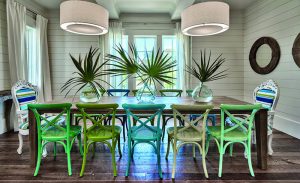 From bottom to top, each space is a continuance of that feeling of relaxation and calm so in keeping that was the vision behind the aesthetic of the family's vacation home, providing them with the perfect getaway space—whether coming to a combined escape, or simply each on their own. "It's so relaxing, here, with all of the happy, fresh finishes and the wonderful pops of color. It's someplace that really makes you feel the beach love when you walk in through the door, and it's definitely a true retreat."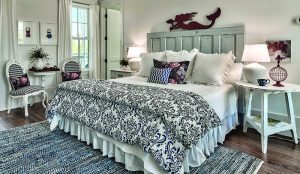 Whatever the occasion for their various trips to their haven at Watersound, both Andrea and Erika—who works with her brother Dusty running the software company's R&D division—and their families find peace here and a chance to recharge and reconnect with one another. "We walk in the back door and take in a deep breath of happy," says Andrea. "It's so inviting, and it's unbelievably serene."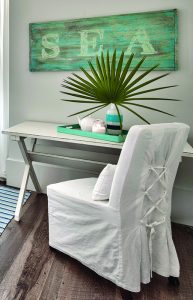 Serenity at the sea, this home is a priceless retreat, a sanctuary from the bustle that so often tears at one's attention and makes it hard to find time to stay connected. Nothing is overly technified, not one space modernized in such a way that it competes with the sense of peace. The tide at play here is one that soothes; and for the Kleins and Alexanders, it's a place where they can come home to take a deep breath and find tranquility.