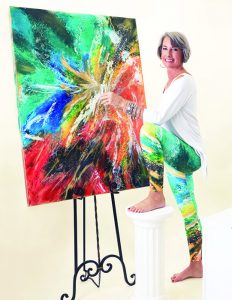 Story by Courtney Murray
Velia Lala's work cannot be defined with words. Her one of a kind and custom pieces transcend all description. You are walking into no ordinary or boring gallery; her custom works are showcased through a multitude of artistic techniques including acrylic, mixed medium, epoxy high gloss, photography, body casting/bronzing and sculpture. Velia is originally from Louisiana and moved to the Panhandle of Florida full-time in 2011. Since then she has greatly impacted the art community. The vibrant colors and textures she uses in her artwork mirror her effervescent personality. Velia is a unique soul who shares her passion for art through leading classes, corporate team building, as well as creating custom artwork and building commissioned life casts and sculptures. "I love the absolute joy I see in a new collectors eyes when they see their completed art commission," said Velia. She approaches art the same way she approaches life, head on and with no fear. "I am an adrenaline junky", said Velia, "I scuba dive and zip line, I've been tandem sky diving twice, as well as hang gliding and white water rafting. I'm always looking for that next new adventure."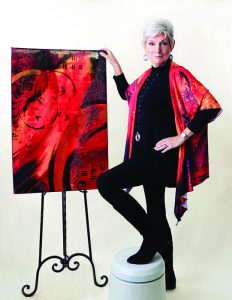 Velia has been privately trained with master artists throughout the United States and London since 2010. Her original artwork can be seen beyond the Emerald Coast, across the United States and has now expanded with collectors in Europe. Her favorite medium is a toss up between acrylics and life casting products. She gets her vision from many walks of life; "My inspiration comes from my joy of living life to the fullest, music, travel, and the human body," said Velia. "I am inspired everyday by something new. The first thing I do every single morning before I get out of bed is turn music on. I am a very diversified artist and educator and I look for inspiration at every turn." Velia's inspiration has taken her art off of the canvas and onto the body with her exquisite wearable art and accessories.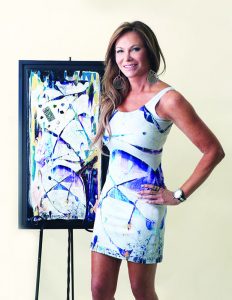 Her vivid prints come to life on leggings, dresses, and kimonos. The swirling colors dance across tote bags, silk scarves, headbands and pillows. When asked what her client's love most about her work Velia responded, "I would probably think it would be how vivacious all my work is. I mainly work with bright, exciting colors with lots of movement and energy flowing through it. Everything is definitely one of a kind and certainly unique." This distinct style exudes throughout her wearable art collection, making this medium truly special. A piece of artwork is photographed and then manipulated and molded in different fashions to fit clothing templates, creating one of a kind wearable masterpieces. This new venture has been a passion project of Velia's for over a year now. To go from seeing her artwork on walls and in homes, to seeing them walk down the street has been an amazing transition. "Everyone that I know personally who has my wearable art loves it," said Velia. "The fit and feel of the material is great and I think it energizes the wearer. You can wear leggings one day to the gym to work out and the next week you can put a nice top and jacket with it for a night out and have a completely different look. They also pack so well for the traveler."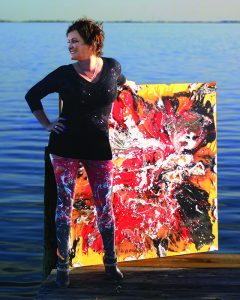 Wearable art has been an exciting new venture for Velia and she has plans to expand her line. "I was not expecting to have men requesting wearable art, but they are. I am working on a few items to incorporate a men's line soon and hope to be able to introduce those in the next few months", she described. "I am also in the process of putting together my catalog to bring to small boutiques, spas and resorts. My goal is to have a manufacturer swoop in and love my colors, styles and designs and invest in this new passion so I can keep creating on both sides, with artwork and wearable art." A girl can dream….and Velia always dreams big.