By Greg Alexander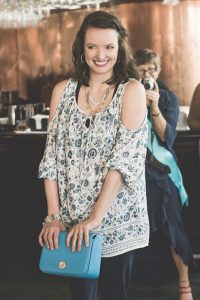 The slogan, "Making a difference in our community since 1976," is much more than just a slogan. It is a fact for the Destin Woman's Club, which, over the last 40 years, has created many strong bonds, lasting friendships, fun times, and most importantly, raised hundreds of thousands of dollars to make the Destin community a better place.
The Destin Woman's Club (DWC) is comprised of members who give of their time and talents to volunteer for various fundraising events in order to support the needs of the community. Beneficiaries of the DWC have been varied and diverse over the years but most recent are Fisher House of the Emerald Coast, The Carol and Bob Winsett Memorial Scholarship Fund, and their own in-house fund known as the Mary Kirkpatrick Family fund. The Destin Woman's Club has supported Fisher House since 2007 and has recently raised over $15,000 for this non-profit that provides housing for injured soldiers and their families while they rehabilitate. The scholarship fund was established in 1994 and is a self-perpetuating scholarship fund at Florida State College, which enables single women to return to college, helping them provide a better future for themselves and their children. The Mary Kirkpatrick Family Fund was created to fill the gap between public assistance and self-sufficiency. This may include monies for groceries, gas, clothing, utilities, medical, and even partial rent assistance. The Family Fund can also provide help for many at holidays such as Easter, Thanksgiving, and Christmas.
To support their philanthropy, the DWC actively fundraises year round. One of their largest projects is an annual fashion show. It takes 9 months of planning to make this show a success. And what a success it has truly been, as the fruits of the labor from this annual project alone have resulted in over $71,000 going to Children In Crisis, among many other causes over the years. They also seek sponsors for the club and for their events, which act as seed money to get their projects off the ground. Current president, Kate Callicotte says, "Without business sponsors, the Destin Women's Club would be too stretched financially to even produce the annual fashion show. We are very appreciative of our past and current sponsors and are always looking for new ones."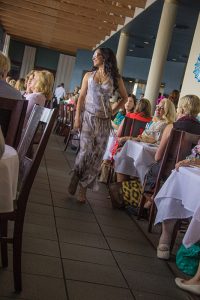 The DWC is comprised of about 70 women coming from various backgrounds and places. This diverse group of women is brought together by their desire to meet new people, participate in fun activities, and share their sense of commitment to helping others. They get to enjoy one another's company while finding new ways to support the needs of a growing community. Some members are professional women leading businesses and industries while others are retired professionals and homemakers. The membership ranges in age from 20's to 80's. This fun group is always looking to grow by seeking new members. There are many needs in the community and this dynamic group of women is committed to taking them head on.
---
Q & A with Kate Callicotte of Destin Woman's Club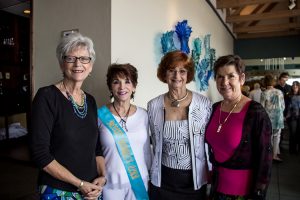 What impact has Destin Woman's Club had on the community in the last year?
The DWC held its annual "Heart&Sole" Fashion Show Fundraiser in April and our net proceeds of almost $17,000 was split between Fisher House on Eglin Air Force Base and our DWC Family Fund.
The Club also recently donated $2,000 to the Childrens' Volunteer Health Network, $500 to Feed the Need Project, $500 to South Walton's Caring & Sharing, $500 to Feline Friends of Destin, and $500 to Harvest House in Destin.
We also have an endowment at the Northwest Florida State College where we currently have a single Mother enrolled at the College and we will be providing $2,000 towards her college fees for the upcoming year.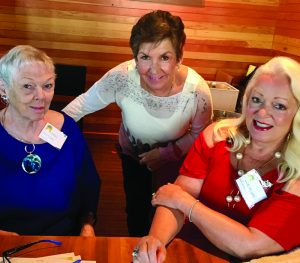 What is the most rewarding part of your involvement with the organization?
Donating checks to our local charities and knowing our Family Fund helps so many families in need.
How did you become involved with Destin Woman's Club?
I felt it was time for me to pay back. My late husband and myself were blessed to be a part of the United States Air Force and we had many wonderful assignments, saw beautiful countries and met so many people, so when he retired from the Air Force after 33 years of Service, we moved to Niceville. I started playing tennis, he took up golf again and then I met a wonderful woman named Linda DeBerry, who was, at that time, president of the DWC. She piqued my interest in "paying back" and the rest is history.
Is Destin Woman's Club involved in any upcoming events?
We will be participating in the Annual Destin Christmas Parade in December. We do this every year and all of us have a great time – just wish we could have some snow!
We will also be participating in decorating a part of Wesley House at Eden State Park for Christmas – another fun project we all enjoy.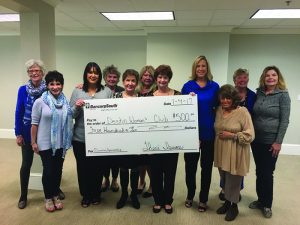 What is one thing you want readers to know about Destin Woman's Club?
We are a wonderful group of women coming together from all over the US, Europe, and Australia. Not only do we have an annual fashion show, but we also have "fun" evenings of enjoying a dolphin sunset cruise, the Mattie Kelly Summer Concerts, and shows at the Mattie Kelly Arts Center at the Northwest Florida State College and an annual cruise in the Carribbean.
How can someone become involved?
Visit the DWC Website at www.destinwomansclub.org. There is lots of information there on being a part of our club and all that we are involved in. Our monthly meetings start in September and run through June. Our lunch and business meetings are held on the second Wednesday of each month. We always have a speaker and after lunch we conduct our business meeting. Our meetings generally do not last longer than two hours.