By Greg Alexander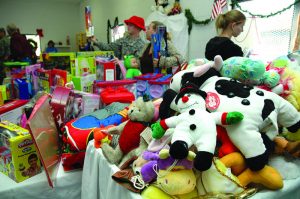 In 1947 Diane Hendricks wanted to donate a handmade Raggedy Ann doll to a needy child but she could not find an organization in which to do so. Her husband, Major Bill Hendricks of the United States Marine Corps Reserve was inspired by her effort so he gathered local Marine reservists and coordinated and collected over 5000 toys for local children in the Los Angeles area that year by using collection bins outside of Warner Brothers movie theaters. His efforts were so successful that the following year Toys for Tots was launched as a national campaign where Major Hendricks used his position PR director at Warner Brothers Studio to gain celebrity support for the kickoff.
In 1980 Toys for Tots began accepting only new toys instead of used and refurbished ones. In 1995, The Secretary of Defense approved Toys for Tots as an official mission of the Marine Corps Reserve. Because many communities did not have a Marine reservist presence, in 1996 other organizations and volunteers began filling in the gaps to make the Toys for Tots campaign stronger and broader.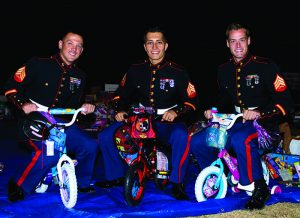 The stated goal of the organization is to "deliver, through a new toy at Christmas, a message of hope to less fortunate youngsters that will assist them in becoming responsible, productive, and patriotic citizens." Locally there is strong support for Toys for Tots and last year over 9500 children were given toys.
Nicole Nolan started 8 years ago as a volunteer and is now Coordinator where she oversees a small staff, coordinates events, oversees distribution points and warehousing, and how toys are distributed. The local organization does receive some support from the Marines reservists but it is 100% volunteer driven. They spend the first 9 months of the year fundraising and planning. Then October- December they collect toys. The fundraising allows Toys for Tots to buy toys from wholesalers but they also have local group shopping excursions where the funds are put back into the community where they originated.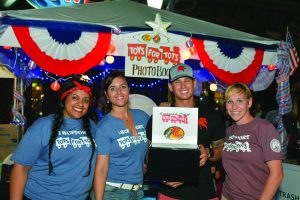 Several local events are held that help raise monies for Toys for Tots. A successful one from this year was a BBQ team from Bass Pro Shops that participated at Smoke On The Coast at Destin Commons. Prime Lending is sponsoring a new cornhole tournament event in December, also at Destin Commons.
In Okaloosa and Walton counties, the collected toys are distributed through 38 partner charity organizations. These organizations determine the children in need and provide the outlet to get the toys to the children. Toys for Tots has a policy in place to only work with non-profit organizations and they also have a system so that the partner charities are pulling from different areas of need so that more children can be served.
While the recipients do not always know that the toys came to them via Toys for Tots, they are always excited and fulfilled to receive the toys. There is a lot of effort that goes into counting, sorting, and bagging toys and Toys for Tots is always looking for volunteers to assist. To find ways to help out visit www.toysfortots.org or visit their Facebook page emeraldcoasttoysfortots or email them directly at emeraldcoasttoysfortots@gmail.com.
---
Q & A with Nicole Nolan of Toys for Tots Emerald Coast
*What is the mission of Toys For Tots?
The mission of the U. S. Marine Corps Reserve Toys for Tots Program is to collect new, unwrapped toys during October, November and December each year, and distribute those toys as Christmas gifts to less fortunate children in the community.
*What impact has Toys For Tots had on the community in the last year?
We provided roughly 9500 children with toys in Okaloosa/Walton County last year. Monetary donations raised locally is spent locally to show thanks for the support and encourage growth in our community. We combine marketing material with local businesses, which we use at our events to encourage donations and promote the use of that business.
*What is the most rewarding part of your involvement with the organization?
The fact that I could have given a child a toy that inspires them to change the world. Did you know, in 1878, the Wright brothers' father, Milton, brought home a rubber band powered toy helicopter. This toy did not simply fall to the ground as expected but rather it "flew across the room till it struck the ceiling, where it fluttered awhile, and finally sank to the floor." Though the fragile toy soon broke, Wilbur and Orville never forgot it. They even attempted to build their own toy helicopters. In later years, Orville accredited this childhood toy as being the object that sparked their interest in flight.
*What have been some obstacles you have faced as an organization and some of your triumphs?
It is difficult to find volunteers this time of year when so many people are traveling and visiting their own families. With the right volunteer capacity, our campaign could expand and we could provide better assistance to our charities and businesses. We have come close to facing a shortage of toys in the past with the number of children in need increasing year after year. We expect that number to grow again this year. Our greatest Triumph would be our ability year after year to successfully provide each less fortunate children a toy with the increasing need. Although we have come close to a shortage, we have never failed in our mission.
*How did you become involved with Toys For Tots?
I started out as a volunteer about 8 years ago. To our close friends and family we call it "voluntold". I was asked by a friend to help her move toys to a warehouse one night. That one night was all it took to convince me that this was something I wanted to be a part of. Each year my involvement and determination grew until I eventually became coordinator.
*Is Toys For Tots involved in any upcoming events?
Yes. We have several upcoming events such as Bikes or Bust, a 5k, corn hole tournaments and more. For a complete list of events please visit our Facebook page @EmeraldCoastToysForTots.