Surf's Up
By Liesel Schmidt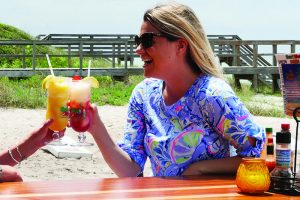 When you're on the beach, you naturally expect to find restaurants dotting the sand whose menus boast fresh fish and flavorful seafood. Some present posh plates whose price points require you to shake the sand off your feet and don buttoned-up attire that allows nary a glimpse of your favorite swimsuit. Others, however, capitalize on the surfside location, welcoming guests to dine as they are, sandy-soles and all. It's that surfer state of mind that drives the concept behind Surf Hut, an open-air eatery whose plates aren't so much about presentation as they are about fun, freshness, and flavor.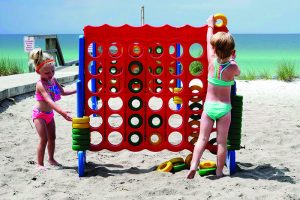 Since opening in 2014, Surf Hut's self-proclaimed vision has been to be "the picture-perfect spot for beachfront dining where diners can take in the sunshine, salty air, and gorgeous Gulf views right from their table." Under the operation of Saltwater Restaurants, Inc., a group whose portfolio of ten restaurants located throughout the Emerald Coast offering fresh fare that has arguably made them iconic, Surf Hut is certainly in good company, using that knowledge base as a diving point for setting up a dining destination for food that has people salivating.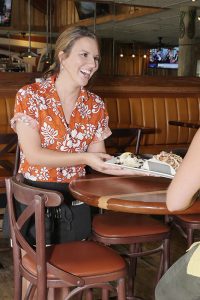 Offering everything from fish to seafood such as oysters, shrimp, and crab, Surf Hut has everything you'danticipate on a plate when you stroll on in to a place like this. But they don't just stick to the expected. Instead, they mix it up by bringing the tide inland, adding turf in along with all that surf with dishes like house-smoked pulled pork barbecue tacos and sweet and tangy sauce-slathered barbecue ribs. Regardless of what's on order at this casual outpost of shoreline cuisine, however, there's one thing they're never casual about: their ability to develop excellent flavor and their commitment to using ingredients whose superior quality help bring that flavor to life.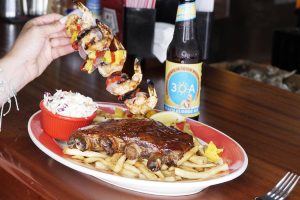 Sourcing only locally caught shrimp, oysters, and fish whose availability depends on the season, Surf Hut is also a proud participant in the Choctawatchee Basin Alliance's oyster shell recycling program, which uses recycled shells to create natural habitats for various forms of sea life to thrive and proliferate. And that dedication to quality translates to every aspect of the menu, from the scratch-made barbecue sauce whose proprietary blend of spices and herbs has won them awards,to their pickled onions. Naturally, their handcrafted burgers are made with fresh beef, and meats are slow smoked in-house over hickory oak to impart the best flavor and ensure that every bite is tender and juicy.
And speaking of juicy…juiciness is served up in spades in their Stuffed Fried Shrimp, loading up a sextet of Gulf shrimp with house made jumbo lump crabmeat dressing and wrapping them in bacon, then frying up the lot to golden perfection. For something on the lighter side with a whole lot of kick, try the Blackened Shrimp Tacos, a best-seller that piles on the flavor with plump grilled shrimp coated in blackening spices served over a bed of crisp cabbage and topped with pico de gallo, zesty chipotle aioli, and creamy guacamole all nestled into flour tortillas that have been warmed over the grill. If you're into a mix of surf and turf, dip your toes in the water while you stay on land with dishes like the BBQ Ribs and Shrimp Kabobs or the BBQ Ribs and Fried Shrimp, two fan faves whose popularity reflect the reason that this joint has received repeated accolades for its 'cue.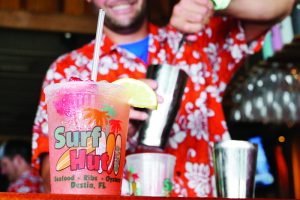 Whether you want to go whole hog or cast your line fully in the water, the menu at Surf Hut has the perfect blend of both worlds, offered in an atmosphere whose friendliness and laid back attitude are welcoming without ever losing sight of the standards that have made them such a success. "People come for the Gulf views and fresh seafood but leave with a smile because of the service," says Marketing Director for Saltwater Restaurants, Inc., Misty Rae Ruthrauff. "Our outgoing, energetic team is what creates the Surf Hut experience for our diners, and they are the very core of our happy culture. We truly believe in exceeding expectation and treating each guest with genuine attention. Life is good at the Surf Hut, and our employees reflect that." Good life, good food…Seems like surf's up, dude.
Surf Hut Destin is located at 551 Scenic Gulf Drive, Destin, Florida 32550. Open daily 11:00 a.m.- 10:00 p.m. For more information, call (850) 460-7750 or visit www.surfhutdestin.com.
Seared Gulf Grouper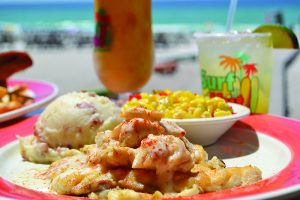 Ingredients
4 8 oz. fillets fresh Gulf grouper
2 cups milk
2 eggs
2 cups flour
8 oz. jumbo lump crabmeat
2 tbsp. unsalted butter
Lemon beurre blanc sauce (recipe to follow)
Olive oil
Salt
Pepper
Directions
In a medium bowl, whisk together milk and eggs to create a wash. Dredge fish through the wash, then dust each fillet lightly with flour. Coat the bottom of a large sauté pan with olive oil and heat over medium-high heat until the oil begins to simmer. Place coated fish fillets into the oil and sear on each side until golden, then remove from the pan. Place each on a serving plate and set aside.
In a smaller pan, heat crabmeat together with butter until butter has melted and crab has warmed. Remove pan from heat, then top each fish fillet with and equal amount of crabmeat. Finish each plate with lemon beurre blancsauce, season to taste with salt and pepper, and serve.
Lemon Buerre BlancSauce
Ingredients
1 tbsp. fresh lemon juice
2 tbsp. minced garlic
1 tbsp. dry white wine
1 small shallot, minced
1 1/2 sticks cold unsalted butter, cut into 12 pieces (1 tbsp. each)
Directions
In small saucepan over medium-low heat, stir together lemon juice, garlic, white wine, and shallots. Bring to a low boil and cook until the liquid is reduced. Remove from the heat and whisk in butter one piece at a time, placing the pan on very low heat and continuously whisking in the butter to create an emulsified sauce.
Recipe courtesy of Surf Hut Destin.