By Liesel Schmidt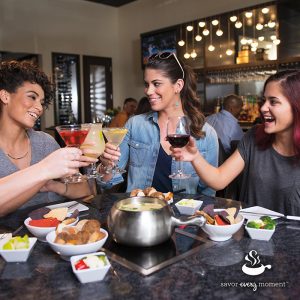 Though the fondue craze enjoyed its biggest heyday back in the 70's when dinner parties were all the rage, there's a reason that skewering pieces of food with tiny, long-handled forks and plunging them into miniature pots of molten goodness caught on like a house on fire. Now enjoying a resurgence in popularity, after a brief hiatus took it out of vogue until the early 2000s, fondue is making people melt all over again… and The Melting Pot is definitely turning up the heat.
Having started with the brand more than a decade ago and working up from server to area manager in her home state of South Carolina, Lucinda Hollis and her fiancé Auburn Bridge were given the opportunity to become franchisees of their very own location as part of The Path to Growth program. Since taking ownership of the Destin location of this popular franchise at the beginning of 2017, Hollis and Bridge have been keeping the pots hot, giving guests something that one won't find in traditional dining environments, making food a more personally engaging, interactive experience that naturally lends itself to intimate date nights, social gatherings, and…did someone say ladies' night?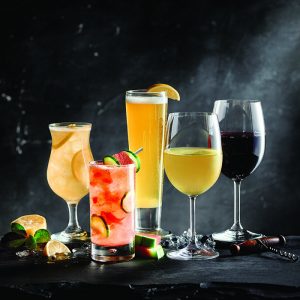 "Dining with us is unlike anything else you'll find in Destin," says Hollis. "It's hands-on fun that really encourages people to slow down, unplug for a couple hours, and enjoy one another's company. We want our guests to play with their food!" she laughs.
And that's certainly something that we could use more of—taking the chance to unplug and connect and play. It's how we build relationships and create friendships, and with events like their monthly Ladies Night Out, The Melting Pot is giving women the perfect reason to meet up and let their hair down. Offering four courses of melted magic, the night begins with creamy cheese melted tableside and served with a delicious variety of artisan breads and fresh produce for dipping. Followed by farm-fresh salads, next comes the entrée course, giving guests their choice of meats and vegetables that are presented to the table in their uncooked form along with seasoned bullion or oil to get things cooking along. Accompanied by six freshly made sauces, there's no shortage of dippable deliciousness; and the decadence of the dessert course is a plunge into paradise, serving melted chocolate with fresh fruits, cheesecake, cream puffs, and rolled gaufrettes.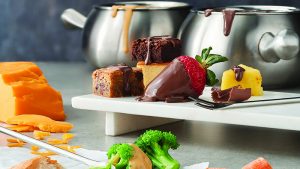 But no night on the town with the girls would be complete without drinks, so Ladies Night Out offers the selection of two drinks including featured cocktails, wine, and beers. Much like the wildly tempting fondue menu, the beverage options are a colorful study in all things delicious, from craft beers and premium wines to sangrias and handcrafted signature cocktails. Perfect for pairing with an evening of girlie glitz is the White Peach Cosmo, a fruity blend of peach vodka, blood orange liqueur, white cranberry juice, and a twist of fresh lemon. And who wouldn't fall in love with the Love Martini, a seductively scarlet drink made of coconut rum, peach schnapps, and cranberry juice garnished with sweet slices of fresh strawberry.
"Our Ladies Night Out is such a popular event because women are able to enjoy a unique experience at a great price, and the relaxed pace and atmosphere allows everyone time to truly enjoy one another's company and catch up," Hollis explains.
From first dip to last sip, The Melting Pot has the perfect way to celebrate your fantastic femininity, and whether you love salty, sweet, sour, or bitter, there's indulgence on order that'll make the day just melt away.
The Melting Pot is located at 111394 Hwy. 98 West, Destin, Florida 32550. Open Sunday- Thursday 5:00 p.m.- 10:00 p.m., Friday- Saturday 5:00 p.m.-11:00 p.m. Ladies Night Out runs the last Tuesday of the month, seats available by reservation only. For more information on menus, reservations, and all events, visit www.meltingpot.com/destin-fl/ or call (850) 269-2227.
---
Love Martini
Ingredients:
1.5 oz. coconut rum
1 oz. peach schnapps
2 oz. cranberry juice
4 strawberry slices (for garnish)
Ice
Directions:
Combine ice and first three ingredients in a cocktail shaker and shake until fully combined. Strain into a chilled martini glass and garnish with strawberry slices.
For more time with the ladies, book your reservation for Uncorked Crushing It, an event running from September 5 through late October celebrating successful women winemakers. It's the perfect way to explore great new wines, enjoy the social scene, and dine on delicious food. For more information on the event, visit www.meltingpot.com/destin-fl/ or call (850) 269-2227.