photos provided by Ben Caldwell | story by Greg Alexander
Artists can certainly be entrepreneurs once they find their path through their passions.  Ben Caldwell is such an artist, who found a path to artistic and entrepreneurial success making what he calls Functional Art.  While he may call it that, the rest of us just call it amazing, astonishing, and timeless pieces that will become heirlooms for generations to come. His art is unique, purposeful, and beautiful.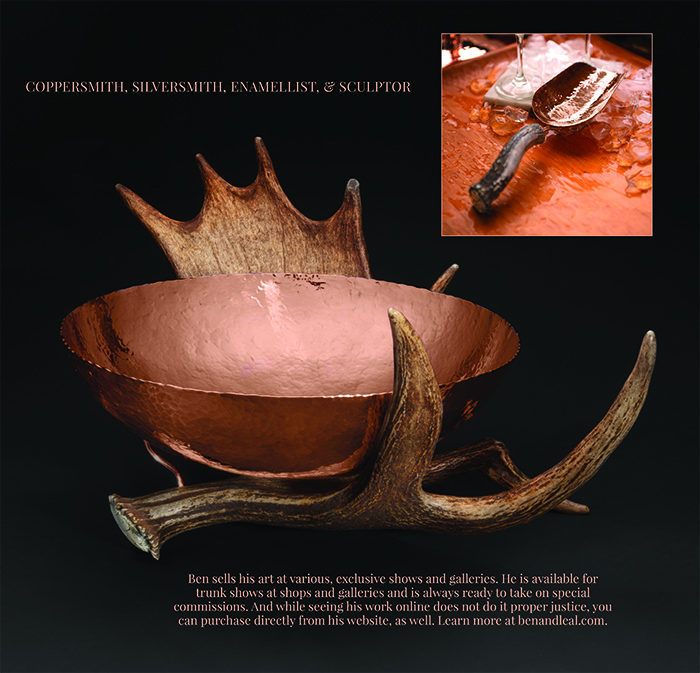 As a classically trained painter and sculptor, Caldwell studied at Tufts University, The Studio School of New York, Harvard University, and The Boston Museum of Fine Arts.  Ben's early career found him crafting custom guitars, West African drums, and many other fun and beautiful things – but, he was not making a living. Ben's father introduced him to a nationally known metal worker, Terry Talley, a metal artist of the old school who was dying of lymphoma. Talley wanted to mentor Ben and pass along this almost entirely abandoned craft for future generations.
In 1999, Ben took on the craft full time. With his classical background, Ben caught on quickly and even began to invent, design, and build a lot of his own tools. Eventually, Ben, along with his wife, Lael, started Ben & Lael, Inc.
Ben is a coppersmith, silversmith, enamellist, and sculptor creating and selling custom, one-of-a-kind copper, silver and enamel art. Ben's signature pieces marry the character of polished copper with natural elements such as deer, moose, or elk antlers incorporated as handles for utensils and bases for bowls. Imagine the skill that it takes to select the precise antler that compliments the metal and looks and feels like a natural fit. Ben's goal for each piece is to seem as it has been used for decades and expects that it will be.
Ben's father was a collector of antique silver so he grew up around the stuff and had an idea of what pieces were used for.  This has allowed him to improve upon and get creative with things such as ladles, scoops, and spoons. When he crafts a copper tray, it is not just a round or smooth tray, but usually a replica of a large leaf he used as inspiration. Often, even the tip of the antler on a serving piece will have a flower or object from nature engraved into it. Caldwell explains, "I'm meeting people's needs – not just utilitarian pieces, but objects that are beautiful."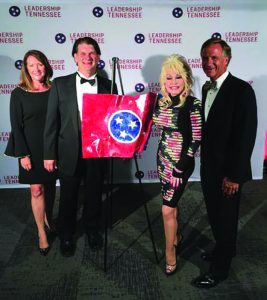 While many of Ben's pieces are created to be used, he also creates compositions of enamel on copper.  These include flags, abstracts, and landscapes, each with so much dimension and movement that when he delivered Dolly Parton's enamel Tennessee flag, she comically quipped, "Who ran over my flag?"
Ben has extended his offerings mostly based on special commissions. He has executed some copper furnishings including custom paneling and interiors for the first Starbucks Reserve. He works with various designers and was commissioned for a custom orchid bowl for Ritz Carlton. He has commissioned pieces for governors, senators, and world leaders. Most recently, Ben has been flying to Arkansas to create a custom light fixture made from copper and antlers for a cabin builder.
On creating new pieces, Ben notes, "People see my work and come to me with an idea. I work with them to realize the idea and execute it." Ben studies old pieces of silver or how craftsmen did things 200 years ago.  With every design detail considered for beauty and for function, each piece is truly a work of art.