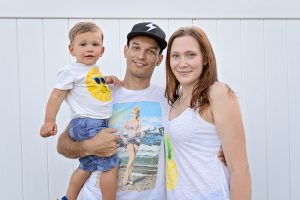 With the electric revolution fully underway, an entrepreneurial couple is taking full advantage of the phenomenon in the Destin market. e-Motion is Destin's newest entertainment (and transportation) craze that you will not want to miss out on. Located at 50 S. Holiday Rd. in Miramar Beach, the family-operated business created by Jay and Kate Odinokov rents and sells electronic personal transportation devices such as OneWheel, electric scooters, electric bikes, and electric remote controlled skateboards. Their innovative products fit all skill levels and age ranges, and they are excited to show you how to use them properly.  Since opening on May 17 of this year, they promise you an experience like no other in the area.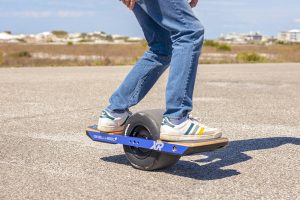 Imagine cruising down Scenic Hwy 98 with a cool breeze hitting your face, without any motor noise as you ride alongside your friends while having a conversation about the beautiful beaches, where you are going for dinner, or the people you are passing by. The large batteries on all devices will ensure you can cover 20-30 miles while reaching speeds as high as 20 miles per hour on a single charge. If you've never done anything like this and are skeptical, stop by their store and allow them to show you why this is one of the most fun things you can do in the Destin area, and see their variety of options for the entire family.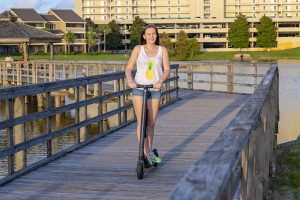 The family oriented business is proud to be ambassadors for this rapidly evolving and exciting movement. After Jay and Kate discovered the incredible achievement in engineering that is the OneWheel, they couldn't wait to share it with the world, beginning in Destin. The excitement that you will feel after getting comfortable on the OneWheel will be equal or greater to the that of when you learned to ride your first bicycle; it is truly that monumental. They have tested numerous other e-skateboards, e-scooters, and e-bikes and have only stocked the best of the best for their customers. Their products include only the most reliable, most practical, best valued, and overall most fun to ride pieces of equipment.
When you stop by to see what they have, you are certain to be blown away by what the current technology is capable of. e-Motion is the pioneer of electric boardsports in Destin and they expect to see this field grow and become more widespread as more people discover this incredible sport.
With rates starting as low as $20 per hour, e-Motion has something that will fit everyone's needs. They will even deliver to your location on certain orders.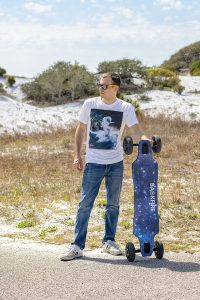 Simply put, you can now surf the road on the most beautiful ride on the planet. Snowboard all season (without snow) and dominate any terrain, whether trails, turf, or pavement with their variety of products with some described as the smoothest skateboard ride ever, all with cool color options! These devices are easily portable whether in your car or on public transportation with one-touch folding systems. So whether you want to surf on land or bike without pedaling, e-Motion has something for you.
e-Motion can be reached by telephone at 850-225-5010 or you can visit their website at emotionfl.com. They are open daily from 9a.m. – 6p.m.  Jay and Kate will welcome you and show you and your friends and family all you need to know to own or rent the coolest electric transportation device you never even imagined.