photos & story provided by Grēnbots
Would you rather make lifelong memories with your children, family or friends or spend that time mowing your lawn?  You no longer have to make that choice. Grēnbots Inc is a new company in your area that offers affordable robotic automowers for residents and commercial properties. 
Grēnbots is the exclusive dealer for Husqvarna and Echo Automowers from Panama City to Mississippi.
We offer mowers that:
• Mow up to 6 acres
• Are smartphone controlled
• Are weather resistant
• Are GPS and theft protection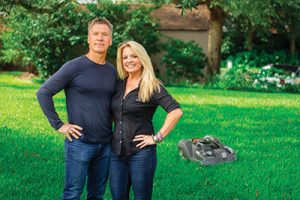 Owners Steve and Shelley Black have been in the Green Industry for over 32 years. Their knowledge, experience and professionalism has made them leaders in this field along the Gulf Coast.   In Europe today over half of all lawns are mowed by robotic mowers and more than half of those are Husqvarna. "Husqvarna is the world's number one selling robotic lawn mower. They have been selling these in Europe for the last 20 years" states Steve. "The concept behind the automower comes straight out of nature – the principle of the grazing animal. The grass is cut a little and often. This is not only more efficient, the smaller clippings created by continual cutting is better for the grass too".
Shelley, "I personally love the smart home integration. Customers can connect to Amazon Alexa or Google Home.  Imagine simply saying, 'Alexa, mow the grass.' Yep, it really can be that easy."
Environmental Benefits:
•  Quiet 
• Emission-free, low energy
• Less fertilizer needed 
• Long lasting, rechargeable battery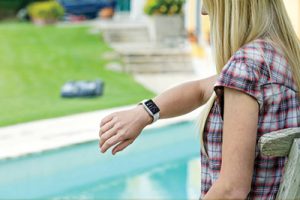 The units are controlled by your smartphone, enabling you to monitor and keep track of them in real time.  Want to park your unit when your kids come home, run the unit when your pet is inside, you are in control of the automowers schedule with a push of a button.
Husqvarna's intelligent design allows the Automower to maneuver around your lawn without supervision, even over tricky terrain and around obstacles. It knows when it needs to be charged and directs itself back to the charging station. With convenient control options, the Automower allows you to set it and forget it, even from your smartphone.
Grēnbots can install and set up your units, or install kits are available to purchase for that do it yourself individual.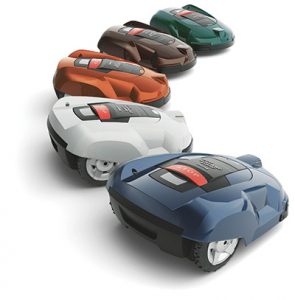 On the Professional Side – Robotic mowers are the perfect addition to the fleet of any green care company. While they tirelessly spend their days producing a carpet-like lawn quality, you can spend your days doing other things. And since our professional robotic mowers all come with Husqvarna Fleet Services™ built-in, you can control them from anywhere.
Perfect cut, less noise and more profit.