photos by Shanna Manguson | story by Morgan Meszaros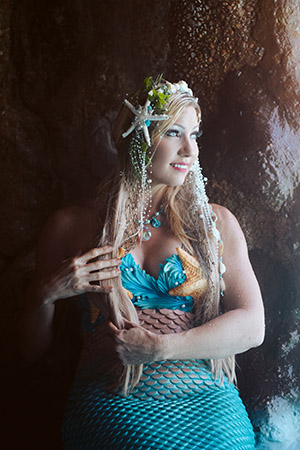 Misty, the resident mermaid at The Island Ft. Walton Beach by Hotel RL, has made a splash on Okaloosa Island. For the past three years, Misty has been making kid's dreams come true as she moves with grace through the iconic Grotto Pool. During summer, she spends Tuesdays, Saturdays, and Sundays showing off her authentic aqua blue tail, ornate top and beautiful, long blonde hair adorned with a crown of seashells. Although, she doesn't have much time for swimming – as she's become quite busy meeting and greeting with families, and smiling for pictures while parents line up to capture their children's faces in absolute awe of her magic and beauty. Misty has met friends and families from all over the nation, from as far away as Alaska.
Misty returned to her home at The Island's Grotto pool in March, but her time with the kids this spring was cut short when The Island had to temporarily close due to the COVID-19 quarantine. With kids stuck at home and disappointed that they wouldn't get the chance to meet Misty, The Island decided to create the "Mermaid Tails" segment to bring Misty to them virtually and brighten their days. Kids that expected to be traveling to the beach for spring break were now learning to adjust to online schooling, utilizing Mermaid Tails in that transition. Every Monday, Misty read a beach-themed children's book so that the kids could tune in and bring the beach to their homes. Parents were excited to be able to add Mermaid Tails to their kid's weekly "lesson plans" too.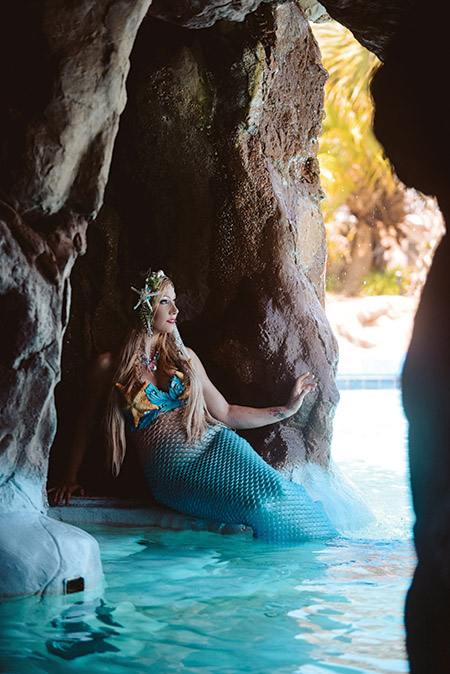 Mermaid Tails was a viral hit, receiving hundreds of thousands of views on Facebook, Instagram, and YouTube. Once the beaches were reopened, The Island wanted to make sure children from all over could still meet and talk to Misty. So they created the  "Mermaid Minute" and asked their social media followers to submit all of their children's questions for Misty through comments and direct messages. As expected, the kids came up with wildly entertaining and unique questions including if mermaids can eat ice cream underwater or if they have underwater playgrounds. Misty will continue the Mermaid Minute every Monday, so kids can continue to get their quirky questions answered. The videos can be found on The Island Instagram, Facebook, and Youtube. Parents can continue to submit their children's questions at any time.
For kids who want to take home a special memory of Misty, they can visit the Island Market located in the lobby to purchase Misty's very own book, The Missing Tiara. It tells the story of how Misty and her magical friends under the sea were able to find her missing tiara and learn a valuable lesson about inclusion and kindness. Kids can get their copy signed by Misty any time they see her at the Grotto Pool. Children can also read along with Misty via the video on The Island website.
Established in 1966, The Island has been a locally-known historical venue that helped celebrate countless weddings, anniversaries, family reunions, and more. Built by Fred E. Tolbert, Jr., an Okaloosa county native, the property has close ties and fond memories with many area locals. After the recent completion of a $15 million property-wide renovation in April 2020, The Island has truly been revived as Okaloosa Island's iconic waterfront resort.
With Misty's newfound social media fame, many locals in the community have inquired about the chance to experience her magic. After Labor Day, The Island will unveil the opportunity for local families to book special poolside birthday parties and events featuring Misty. For more information, visit TheIslandFL.com and follow The Island Ft. Walton Destin by Hotel RL on Facebook and Instagram.