An ECCAC look back… twenty years of helping heal children.
story & photos by Kay Phelan
 Their Heartbreaking Story
…A 6-year-old sexually abused by the grandfather.
…A 12-year-old with severe burns that were getting no attention.
…The young child who witnessed one of their parents being brutally murdered.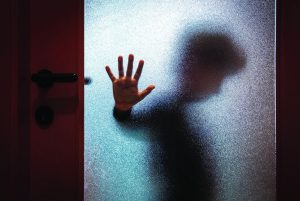 These are but a few of the many children right here in the local community that have been helped by ECCAC. They not only bring all organizations together so the judicial and healing process can be easier for the children who are victims of abandonment, abuse or neglect, they also provide mental health therapy for the children involved as well as their families.
The Beginning for ECCAC
A complex child sexual abuse case in the mid 1990s occurred. Because of that crime, a group of prosecutors, the Department of Children and Families, the Child Protection Team of medical personnel, and forensic interviewers, various law enforcement agencies, and mental health professionals gathered to find a better way to manage child abuse cases in Okaloosa and Walton Counties.
After researching several options, the group discovered the concept of a children's advocacy center, a system of care originating from Huntsville, Alabama. The premise was instead of a child having to tell their story in multiple locations to multiple professionals, multiple times, a child would go to one child-friendly place where professionals would come to the child. Professionals would listen to the child's disclosure together. The end result would be that by working together services could be wrapped around the child and family while holding the offender accountable. They chose the best practice model to house as many agencies under one roof as possible to accommodate the needs of the children.
Julie Hurst, now Julie Porterfield, is a special lady with a big heart when it comes to the well-being of children. She was at the forefront of this major undertaking. In 1999, she became the founding CEO of ECCAC. During the first few years of the 501-C-3 organization's beginning, her passion, dedication, and energy, along with the financial support of the community and a strong volunteer base, enabled a $2.1 million, 13,000 square foot new center to be built and open in Niceville, Okaloosa County, in October of 2000.
But before the Niceville center became a reality, a grassroots community and governmental efforts established the Emerald Coast Children's Advocacy Center in 1997. A small 900 square foot office was opened in what was once a dry cleaner in Valparaiso. Following a successful capital campaign, the Niceville Center grew out of the ground led by builder Randy Wise, architect Allen McGinnis, and interior designers Jan Strunk and Debbie Wise. All donated their talents to create a child-friendly place where children could still be children while working through the abuse they experienced..
"I am honored to say that now, 20 years and 14,000 children later, we have brought hope and healing, and restored childhoods often lost to abuse," said CEO Julie Porterfield. "The Niceville Center began with only 3 staff members and has now grown to 21. We started with a budget of $180,000 in 2000, the budget today is $1.6 million."
Over the years, Porterfield's diligence and dedication enabled the construction of a second center to be built in DeFuniak Springs to accommodate Walton County children named the Pierce Family Children's Advocacy Center. Thanks in part to the lead gift of the Pierce family and the generous donation of the Dugas Family Foundation, this $3.2 million, 15,000 square foot building with 45 offices and staff officially opened in April of 2016.
The ECCAC Team and Dream Continued to Grow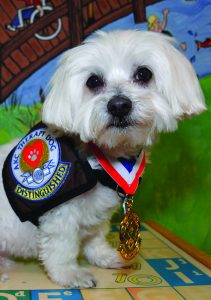 Over the past 20 years, ECCAC programs have grown in many ways. Both Centers have established a sound mental health program. Jacqui Broadus is the mental health clinical supervisor. Under her leadership, ECCAC has developed an animal assisted therapy program. A program that began with only one therapist has now grown to five therapists and two therapy pups and several volunteer therapy dogs and their handlers. There are extensive play therapy set-ups and lovable therapy dogs on hand to work with the children, too. These therapeutic services offered are critical to the overall long-term well-being of the children seen each and every day.
ECCAC can easily say they have provided more than 50,000 hours of counseling. The advocacy program has grown from one advocate to three. Advocates are the backbone, ensuring that children and families understand ECCAC's role. They work with the families to ensure they have the resources they need to overcome the trauma to include referral and follow up to therapy, clothing, food, and other necessities. Along with ECCAC's agency partners, as of 2019, they can easily say they have provided more than 150,000 services to 14,000 children and their families at no cost.
ECCAC is a fully accredited member of the National Children's Advocacy Center non-profit organization. There are 777 Centers across the country, with 27 of them located in the state of Florida.
Prevention is the Key
It is hard to believe there are approximately 1,100 cases of child sexual and physical abuse reported annually in Okaloosa and Walton Counties, an average of three per day. Despite those big numbers, nearly 2/3 of the actual needs to help child victims go unmet due to lack of reporting to authorities. It is estimated that for every one child ECCAC helps, there are two out there who need ECCAC.
Prevention Programs Rule…Enter Child Safety Matters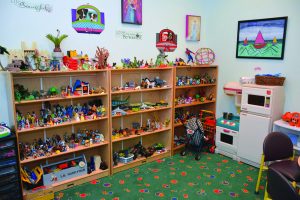 This important prevention program was implemented by ECCAC in the 2017/2018 school year. Research shows that 95% of abuse of children is preventable through education.
In age groups 5 to 13, approximately 1,430 Child Safety Matters classes have been taught to 2,942 students in Walton County and 23,391 in Okaloosa County.
There have been 31 disclosures of some type of abuse or neglect in both counties. Teen Safety Matters has now been added by ECCAC to reach teenagers in both counties. As well, ECCAC has been doing Mandated Reporter Training classes for Okaloosa and Walton County EMS, Department of Health staff, as well as school district staff. To date, over 8,000+ adults have gone through the ECCAC hosted classes. Many do not realize it is the law in Florida that if any person 18 and older knows or suspects a child is being abused, they are required to report it to authorities. As a result, there has already been an exponential increase in mandated reporters coming forth with reported incidents.
  For more information about donating, volunteering, or the Emerald Coast Children's Advocacy Centers, visit www.eccac.org or call (850) 833-9237.

The Emerald Coast Children's Advocacy Center (ECCAC) provides services at no cost for young victims and their families in a child-friendly environment. All support services and personnel are under one roof. There are two centers, one in Niceville in Okaloosa County, and the Pierce Family Children's Advocacy Center in DeFuniak Springs in Walton County. Neither location provides housing for children.
Congratulations ECCAC on 20 Years of Healing Services for the Children!