As a young girl, the Appalachian Mountains were my playground. With the realization that I could explore more places and see more things on a dirt bike, I organically developed a fondness early in life. My love for motorcycles went through stages, and over the years, I evolved into an adventure rider, the industry term for off-road exploring on a street-legal dirt bike – commonly referred to as a dual-sport. My greatest accomplishment as an adventure rider to date would be the Trans American Trail – riding rough unpaved roads running east to west crossing the U.S. through forests and mountain ranges while camping on the trail.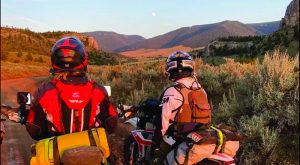 One setback to being a female adventure rider is that riding alone is not recommended due to remote areas with little or no access to help for a mechanical need or mishap. The best way around this is to work with a touring company specializing in dual-sport adventure rides. Options to plan a trip range from hiring a guide for a day, to weeks on the trail. Some people use their own gear and ride their own motorcycles; others rent everything.
I have booked a few tours and hired a few guides over the last few years with great success. This year, dealing with time constraints, I opted to leave my motorcycle at home and booked an all-inclusive tour for the first time. A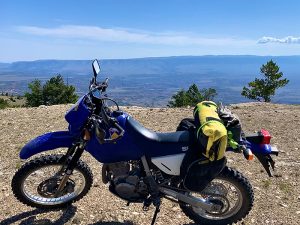 quick search provided Rocky Mountain Detours, located in Columbus, Montana, offering a three day guided tour complete with camping gear, and a DR 650, my ride of choice. Beginning to end, Rocky Mountain Detours provided the best experience. The attention to detail, starting with the bike and camping gear, to the terrain we rode, was exceptional. I received excellent customer service from the minute I walked out of the airport. I was on the bike pre-packed with camping gear within two hours of landing and riding to the mountains.
The first evening placed us in a remote camping area where the trees gave way for a beautiful Montana moon to shine on my first night in the tent. The ride started early Saturday morning with breathtaking scenery and a stop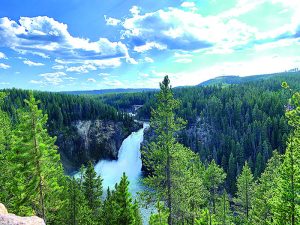 at Big Ice Cave, 50 miles south of Billings, Montana, in the Pryor Mountains. The cave is a single chamber with 2 openings, a traditional entrance, and a vertical entrance that ice and snow enter through. Cold air flows into the cave in the winter and gets trapped, forming thick ice that stays frozen year-round. We continued riding higher into the mountains, enjoying exceptional views overlooking Yellowtail Reservoir on the Bighorn River that are only afforded off road. A quick stop at Pen's Cabin, constructed in 1925 in the Pryor Mountains' Wild Horse Range, caused us to encounter a traffic jam … with a herd of wild mustangs.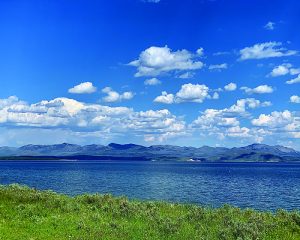 The day continued through some sandy desert riding, lush green valleys, and rocky mountain passes ending in Cook City for dinner at a small cafe. Here, I realized we were very close to Yellowstone, and I requested a visit to Old Faithful and Mike Georgeson, the owner of Rocky Mountain Detour's, happily obliged the change in plans. Yellowstone offered the regular tourists sights and a lasting memory of riding beside a buffalo as traffic slowed for him to pass. As the day ended, my only regret would be riding Beartooth Pass in the dark. Standing at over 10,000 feet on the Montana and Wyoming border, I can only imagine the views I missed by asking to see Old Faithful.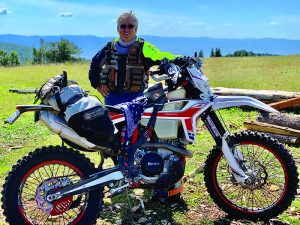 Mike Georgeson and Jerry Gardner of Rocky Mountain Detours created a fun, challenging ride filled with unforgettable sights and scenery that could not be seen otherwise. The pace was always up to me, and there was never any pressure to do anything I was not comfortable riding. Whether you may be a female adventure rider like me or a group of men and women, these guys can accommodate. Rocky Mountain Detours also offers a unique winter experience on motorcycles modified with skis on the front instead of a tire. I will seriously be considering a snow bike moto camping weekend this winter.
As John Muir eloquently stated, "The Mountains are calling, and I must go."
photos & story by Verla Price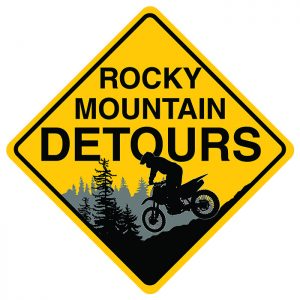 Rocky Mountain Detours llc.
1008 E Pike Ave Columbus, MT 59019
rockymountaindetours.com
Rockymountaindetours@gmail.com