Story by Liesel Schmidt | Photos by Tim Kramer/Move Media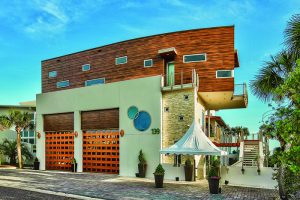 Not everyone can say that Mick Jagger has graced their home or that each room in said home is somehow more spectacular than the last. Nor could most people boast the fact that a glass bridge connects two areas of their house, crossing the divide above the crystal-like aqua blue waters of their pool.
But then again, not everyone is Pam and Bill Burden, two of Destin's leading faces in the plastic surgery and cosmetic skincare industry. And while the sleek look of their home might bear quite the resemblance to spaces one might expect to find in Manhattan's famed MoMA, every square inch of the 12,000 square feet claimed by this impressive structure is utilized on a daily basis—from the ground-floor game room to the third-floor entertainment "room," complete with a fully-realized stage area with band equipment, DJ equipment and lighting, and "Boomerang Bar." No wonder Mick Jagger stopped by.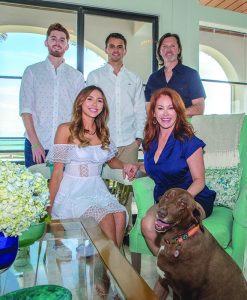 Of the aforementioned 12,000 square feet known by the Burdens as "Château le Nichon," 9,500 square feet are living spaces, comprised of 6 master bedrooms—two of which are grand enough in size to put small apartments to shame—one bunk room complete with six bunks, a game room, basketball gymnasium, work out room, a commercial kitchen, an atrium, the entertainment room, and various other rooms one might need for daily function. The listing reads much like that of a luxurious hotel, so numerous are the amenities; and with as active a social life as the Burdens lead, that kind of space is certainly something they require—though their flair for design and love of modern architecture take that simple necessity for space and crank the execution of it all up to eleven.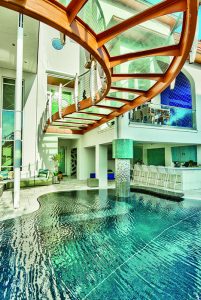 Having originally built the home in 2005, the Burden's ever-growing presence on the social scene and involvement in charitable organizations gave them all the incentive they needed to expand their space with a 4,000 square foot addition. While many home additions tend to give themselves away, the Burden's newly and more modernly designed addition was artfully achieved to blend well with the Spanish Caribbean aesthetic of the original structure. As a whole, the entire home is a marvel—a blend of functionality with form, old with new, innovation with art. And despite the incorporation of its many jaw dropping attributes—from cantilevered construction and sleek finishes to architectural elements and design bearing the handiwork of some of the very best minds in the business—the vision for the home was not simply to be a showpiece, but a home to be lived in and loved. "This house was designed to be a living house, and we really do use the entire house," says Bill. "There are no wasted areas and no rooms that are kept only for display. We're active people, with an active family and an active lifestyle, so we designed the house to accommodate that."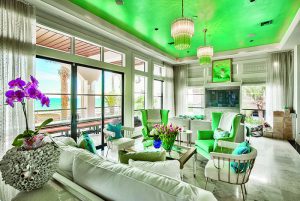 The founder of Destin Plastic Surgery, Bill's stream of work as a renowned plastic surgeon certainly keeps his schedule full—as does Pam's own current role as property manager and social manager keep her days operating at a high pace. And with as much responsibility as she shoulders in keeping up with her involvement in local charitable organizations, society events, and the various activities of their youngest son as he navigates the last day of his high school career, one might say that she stays every bit as busy as she did in her work as the designer and founder of a medical-grade skincare clinic in Destin and the manager of her husband's practice.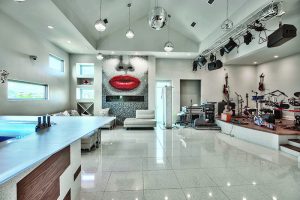 Such a whirlwind of activity undoubtedly makes the chance to unwind and bask in beauty a necessity, rather than simply a frivolity. It takes only a quick peek at this stunning home to see that the mission is more than accomplished. Offering spectacular views of the sun setting in the waters edging along Destin and Sandestin with watercolor sunrises bringing the first blush of morning to Panama City and Seaside, the Burden's abode is perfectly situated on the water's edge in a location that provides peace, privacy, and tranquility.
From simple family dinners to society dinners and pre-prom festivities, the Burden home is a display of just how beautiful life can be when you live it to the fullest and make every last little thing an opportunity for excellence.