Photos & Story provided by Children's Volunteer Health Network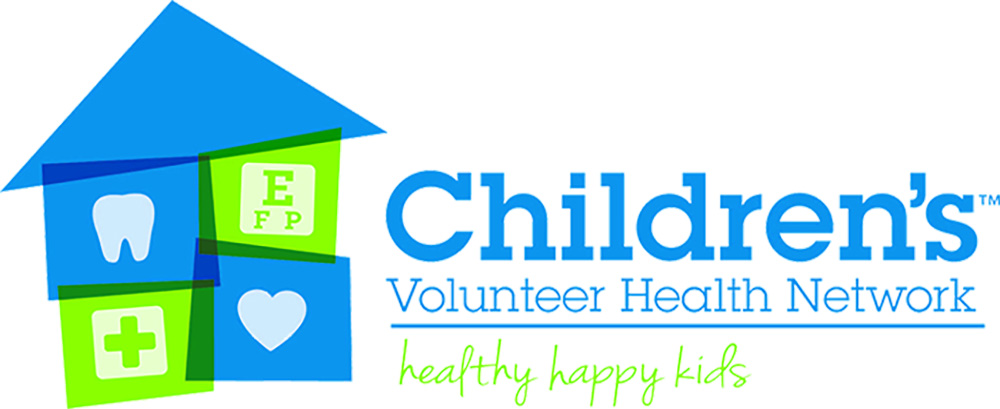 It all started with a young boy named Tyler when he, his mother, and brother were attending an evening program at Point Washington United Methodist Church and he captured the attention of a volunteer, Tricia. Tyler was withdrawn, never smiling and was acting out towards his mother, who informed Tricia that Tyler was being bullied at school for his jagged teeth, referring to him as "monster mouth," but the family could not afford the required dental care. Tricia knew she had to do something. So she called in the help of friends at the church to find someone to help Tyler. A local dentist offered to provide braces to Tyler free of charge. Post dental transformation, Tyler began smiling, making friends and ended up becoming the captain of his wrestling team. Out of this situation, Children's Volunteer Health Network was born in 2005.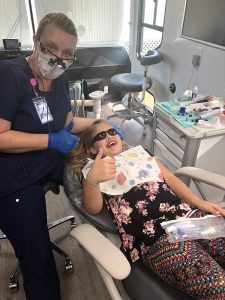 Children's Volunteer Health Network is a faith-based 501(c)3 organization, established in direct response to Walton and Okaloosa counties' large population of families unable to access high-quality health services due to the unavailability (or inadequacy) of insurance. CVHN facilitates the delivery of comprehensive, vision, dental, and mental health services to children whose family income falls below certain measures throughout Walton and Okaloosa Counties and surrounding communities.
Building on the past, CVHN is now positioned to boldly move forward in filling the health and wellness gaps that exist for children from under-resourced families. With a determined Board of Directors, CVHN embarked on an exciting three-year strategic plan last September to maximize impact locally. Led by their current Board Chair, Doug Herndon, founding Board Member Jane Bahr, Annie Stutts, and immediate past Board Chair, Sarah Svoboda, and past Board Member, Dennis Peters, the strategic plan focuses on scaling their dental and vision programs and introducing a mental health initiative to alleviate the alarmingly high rates of stress, anxiety, and depression being experienced by children.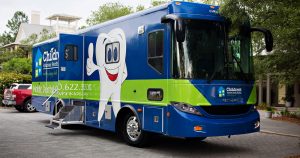 More specifically, CVHN is pursuing an additional dental mobile unit, staffed by a dentist and dental assistant, to offer a full range of restorative dental care to students benefiting from their preventative program presently.
For their vision program, the goal is to develop relationships with strategically located vision providers in the northern parts of Okaloosa and Walton Counties and the southern portion of Okaloosa County. These new partnerships will complement their existing partnership with Optikk 30A.
"Beautiful Minds" is the name of their new mental health initiative. In demonstration of their commitment to positively affect children's mental health, CVHN hired Megan Trent as their Mental Health Coordinator earlier in May to lead the ambitious effort. Megan is currently networking with local providers, schools, and nonprofit organizations to perform a needs assessment. In just a few short weeks, Megan has demonstrated a remarkable passion and ability. In fact, she is working on a pilot program with one mental health provider and a virtual educational presentation featuring another mental health provider.
Interview with Brian Lowe – Executive Director – CVHN
What is the primary mission of CVHN?
CVHN provides the opportunity for children in need to flourish by facilitating the delivery of health and wellness resources. Our signature program, a mobile dental clinic, travels to local elementary schools in Okaloosa and Walton Counties. Staffed by three registered dental hygienists and a volunteer dentist, preventative dental care is offered to children in need at no cost to the families. Our second program provides children in need with an eye exam and prescription glasses. We currently partner with Optikk 30A in South Walton to deliver this program. Optometrist Dr. Korrie Lalim generously accepts a flat fee from CVHN per child served. Therefore, there is no cost to the child's parent(s).
How is the organization funded?
CVHN is a 501(c)3 nonprofit organization that is primarily funded privately. The exception here is a small percentage of Medicaid reimbursement for services delivered. Strategic partnerships with the Destin Charity Wine Auction Foundation (DCWAF), the Dugas Family Foundation, Alys Beach, and the St. Joe Community Foundation, fund a significant portion of our operating budget annually. Additionally, we rely of fundraising event income, monthly donors, and grants to provide services to children in need at no cost.
How do you find families/children that need help?
Since 2008, our mobile dental clinic has operated in local elementary schools. Applications for services are sent home with students at the beginning of the school year. We focus on meeting the needs of children who are eligible for free and reduced lunch or Medicaid. On the vision side, word of mouth is the most likely source of referrals from within the communities that we serve.
How has CVHN impacted the local community in the last year?
During the 2019-20 school year, CVHN provided free dental exams, bitewing x-rays, cleanings, sealants, and oral health education to 1,058 students at 7 schools. Due to COVID-19, CVHN was unable to see children at three additional locations, including one community partner. Still, CVHN's service to children increased by 15% from the previous year. Of the 1,058 children seen during the 2019-20 school year, 418 had tooth decay and 128 were referred for urgent care.
What is the greatest challenge facing CVHN?
Along with most nonprofit organizations, our immediate challenge is the fallout from the COVID-19 pandemic affecting the children who desperately need quality dental care and organizational funding to provide an appropriate level of care. When the pandemic forced schools to transition to virtual education, our mobile dental clinic program was suspended. Additionally, our fundraising calendar has been disrupted with the stay-at-home declaration by the State of Florida. So far, we have cancelled two fundraising events as a result.
What is the most rewarding part of your involvement with the organization?
As a nonprofit professional, it's very satisfying to advocate on behalf of children for access to resources that can be the difference between thriving and languishing. Each of us has the ability to change the narrative for someone else. As a leader of an organization focused on children, I'm committed to providing opportunities for our CVHN team, donors, and volunteers to be difference makers.
How did you become involved with CVHN?
I previously served for 13 years as Executive Director for Hope Pregnancy Center in Boone, NC. The CVHN opportunity, originally found online, attracted me because of the mission and location. After interviewing for the position, my family and I packed up and moved down in six weeks.
How large is your staff?  Is it partially volunteer driven?
On our team, we have 7 employees. Our only volunteer is Dr. Gary Olsen, a retired dentist who administers the dental exams on children at the schools.
What is one thing you want readers to know about CVHN?
CVHN is determined to provide real value to the families we serve. Through sustainable growth, the future is full of meaningful opportunities to impact the lives of children. What are you waiting for?
How can someone become involved with or support CVHN?
If you want to be a catalyst for changing a child's potential, go to www.cvhnkids.org, like us on Facebook (www.facebook.com/cvhnkids), or follow us on Instagram (@cvhnkids05).