By Liesel Schmidt
Peter Luger. Gallaghers. Frankie & Johnnie's. Keens.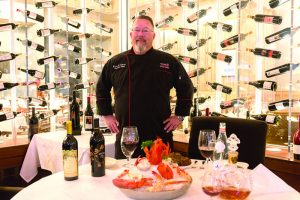 Some names are synonymous with steak, their mere mention can beenough to make mouths water as the mind's eye envisions specialty cuts of tender, beautifully marbled meats perfectly crusted and seared, their interiors so juicy and pink that the mere touch of a knife releases rivers of fragrant, flavorful juices. While these iconic steakhouses might dot the map of New York City, there are other restaurants across the United States whose eponymous brands inspire that same effect, proving that the execution of a beautiful steak isn't solely claimed by one region. Rather, it's the result of a passion for what is, in essence, a true craft; and for more than fifty years, Ruth's Chris Steak House has more than earned its chops as a prime location to experience some of the finest steaks money can buy.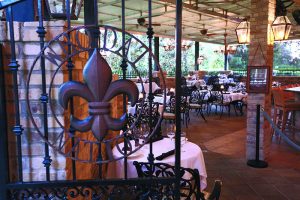 First established in 1965 when New Orleans native and entrepreneur Ruth Fertel stumbled across an opportunity to buy a floundering steakhouse called Chris Steak House, it was sheer determination and willingness to take on every aspect of the business that led to her initial success. From butchering to broiling to serving the front of the house, Ruth became fully immersed in her venture; so when a fire later destroyed the restaurant and forced her to move, the legalities that required a name change were almost serendipitous, as it was Ruth's passion that had breathed new life into a doomed restaurant.
Reopened as Ruth's Chris Steak House, the original New Orleans-based restaurant later grew to hold wide acclaim, later branching out to establish new locations all over the world. Now more than 100 restaurants strong, Ruth's Chris Steak House has made a mark along the shorelines of Destin, as well—and diners in search of prime-rated steaks and elevated New Orleans-inspired cuisine know that, regardless of the fact that it might be considered a "chain," there's nothing chain-like about the culinary experience they'll have when they dine at Ruth's Chris.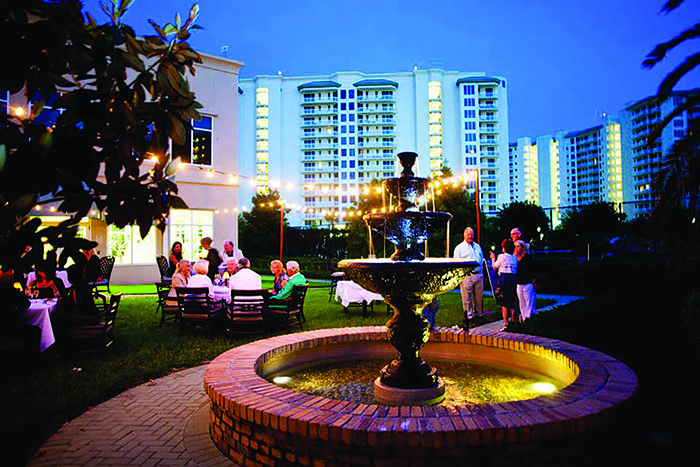 Opened in 2006 by Jimmy Lee and Tom Becnel, Ruth's Chris Destin locale has well established itself as a local favorite, a break from the expected fare of seafood so common to coastal areas. But more than that, it has become known for the sheer excellence of its cuisine, as its chefs focus on the inherent beauty of the meat, using the barest traces of seasoning to let the steaks shine in their full glory. Naturally enough, top sellers include the filet, though each and every one of the USDA Prime steaks featured on the menu are a study in technique and masterful skill in perfecting what could easily—in the space of less than a minute's time—be either undercooked or overcooked, so time-sensitive is the cook on a steak. From New York Strips to T-bones and Porterhouses, the array of meat is artfully prepared under the experienced hands of Executive Chef Ruston Johnson and his team, his nearly three decades of experience brought to bear on each plate that leaves his kitchen.
Making everything from scratch, every sauce and puree displays the same adherence to quality and flavor that Ruth Fertel herself was passionate about. And whether ordering the searedtuna with house made mustard beer sauce as an appetizer, Ruth's signature creamed spinach as an accompaniment to one of the perfectly crusted steaks or specialty seafood dishes, or indulging in one of the decadent desserts like crème brulee or the chocolate explosion, one underlying fact remains: everything is done in excellence.
That excellence extends from the plate to the service, creating an experience that truly matches the caliber of the food. "We pride ourselves on how Ruth treated her guests," says General Manager Mike Sable. "She treated them like family, with New Orleans hospitality, and wanted them to have fun. A lot of fine dining restaurants can feel 'stuffy,' but we're definitely a celebration place—though we also have a regular following of guests we see weekly and sometimes nightly." With good reason, as #1 Billboard Charting Artist Michael J. Thomas is part of a regular rotation of live music acts that Ruth's Chris in Destin is celebrated for. From smooth jazz to lively covers of old favorites, this is one restaurant that offers the perfect steak—and an accompaniment to match.
Ruth's Chris Steak House is located at 15000 Emerald Coast Parkway, Silver Shells Resort Destin, Florida 32541. Open Monday-Saturday 5:00 p.m.- 10:00 p.m., Sunday 5:00 p.m.- 9:00 p.m. For more information, call (850) 837-7884 or visit www.ruthschrisdestin.com.
Ruth's Chris Steak House Crab Cakes

Ingredients:

2 eggs
3/4 cup mayonnaise
1/4 tbsp. blackening seasoning
2 tbsp. Creole or Dijon mustard
1/4 tsp. salt
1/4 tsp. fresh chopped parsley
16 oz. jumbo lump crabmeat (fresh or canned)
1 cup butter crackers, finely crushed

Directions:

In a large mixing bowl, whisk eggs and next five ingredients until fully mixed. Add crabmeat to the sauce, stirring in gently to maintain the lumps. Gently fold in cracker crumbs until fully mixed, then portion into 3 oz. cakes and place on a greased baking sheet. Yields 12.

Preheat oven to 425 degrees. Position the baking sheet on the middle rack and bake for seven minutes or until internal temperature reaches 150 degrees and the exterior is golden brown. Remove cooked crab cakes from oven and serve with melted lemon butter or sauce of choice.