By Liesel Schmidt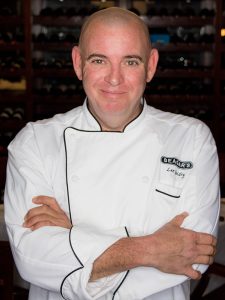 Outside of New York, the sumptuously appointed steakhouses whose standards of excellence win notoriety the world over are arare find—so much more so here on the Emerald Coast, where Southern comfort fare and coastally-inspired cuisine prevail and flip flops are practically part of the dress code. But proudly standing in stark contrast both for their distinction of class and refinement as well as for the ingenuity and superiority of their menu, Seagar's Prime Steaks & Seafood has made a name for itself, garnering high esteem for those very attributes and drawing diners to taste and see what luxury looks like.
Located in the iconic Hilton Sandestin Beach Golf Resort & Spa, Seagar's has long held a tradition of unapologetic elegance and sophistication, demanding such high standards from everything that passes through the kitchen on its way to a guest as well as from each bottle whose cork is popped and each drop that is poured. Clearly, "prime" isn't just a part of the name—it's a part of the experience they provide and reflected in all that they do. Representative of that fact, Seagar's holds court as the area's only AAA Four-Diamond steakhouse, specializing in the finest cuisine showcasing prime cuts of beef and meats as well as the freshest seafood available along the Emerald Coast. "The difference between a good dish and an outstanding dish often comes from a restaurant's investment in quality and local products; and at Seagar's, we stress sourcing local and organic products," says Executive Chef Lee Guidry. In perfect pairing to their luxurious menu, the restaurant's private-reserve wine list features more than 600 wine labels and repeatedly boasts the honor of receiving Wine Spectator's"Best Award of Excellence."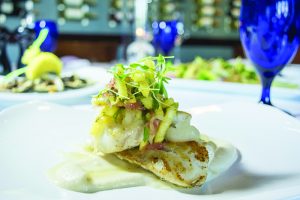 Offering private dining options as well as captain service, sommelier service, and tableside preparation of such long-standing steak house dishes including Steak Diane, Dover Sole, and Bananas Foster, Seagar's has long held renown for it's cuisine—and that tradition of excellence is continued under Guidry's deft hand. A passionate chef whose pedigree takes him through award-winning kitchens all across the nation as well as boasting a few awards of his own, Guidry is native of the South, though he clearly draws on international inspiration from his travels and training. Having learned the techniques of regions whose flavors impassioned him to hone his craft and refine his palate, Guidry brings that to bear on the plate at Seagar's, executing nothing short of brilliance in every single dish.
Alongside classics that have graced the menu since the restaurant opened its doors in 1998, the newly created fall menu offers an abundance of harvest-inspired options highlighting freshly caught fish and seafood, prime-rated meats, and locally sourced ingredients that seem to come alive in the fall. Infusing the smoky earthiness of herbal tea into the rich, gamey flavor of duck breast, the Smoked Duck Breast is served with an accompaniment of butternut squash hash and sweet cherry gastrique topped with crisp fried leek threads.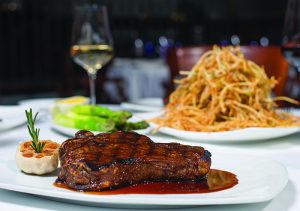 For seafood lovers on a quest for refined indulgence at its best, the Seared Diver Scallops bear Seagar's signature hallmark touches of elegance, presenting the lusciously prepared scallops seared to golden perfection with a tender center and served with a shaving of black truffles atop freshly made rock shrimp-stuffed agnolotti, beech mushrooms, and sautéed asparagus and baby bell peppers. For something on the lighter side of the harvest, the Panzanella Salad features plump rock shrimp served over a bed of baby arugula, green tomato chow-chow, and corn shoots and accompanied with freshly made sweet cornbread. And joining the newcomers are such temptations as Olive Oil Cake with candied apple, tart lemon curd, and Chantilly cream as well as the smoothly decadent Chocolate Praline—a rich hazelnut mousse topped with caramel foam and toasted pralines.
Clearly, Seagar's has well earned its reputation of unwavering excellence, crafting dishes so refined and elegant, so perfectly infusedwith flavor and finesse. And while such perennial favorites as Tuna Tartare; Osetra Caviar; and USDA Prime Filet Mignon, Ribeye, Porterhouse, and New York Strip steaks could certainly carry them on to continued success, Seagar's forges on in exploration of ever higher climes, reaching to push for greater distinction at the top. From first sip to last bite, every moment spent at Seagar's Prime Steaks & Seafood is the very definition of "prime"—and they're taking even that to new heights.
Seagar's Prime Steaks & Seafood is located at Hilton Sandestin Beach Golf Resort & Spa, 4000 Sandestin Boulevard South, Miramar Beach, Florida 32550. Open Tuesday- Thursday 6:00 p.m.- 9:00 p.m., Friday- Saturday 6:00 p.m.- 10:00 p.m. For more information, call (850) 622-1500 or visit www.seagars.com.
Seagar's Seared Scallops with Shrimp Agnolotti

Ingredients:

1 lb. all-purpose flour
4 eggs
1 tbsp. olive oil
Pinch kosher salt
1 egg yolk
Shrimp filling (recipe to follow)
Seared scallops (recipe to follow)
Vegetables in pan sauce (recipe to follow)

Directions:

In a large bowl, combine and hand mix first four ingredients until smooth. Roll into a ball and wrap in plastic wrap, then refrigerate dough at least two hours. Portion chilled dough into four equal portions and use a pasta roller to begin rolling and folding dough until #2 setting on the pasta machine is reached. Note: If using a rolling pin, roll until dough is 1/8-inch thick.Portion rolled dough with a 2 or 3-inch square cookie cutter and set aside.

Coat half of each pasta square with egg yolk. Spoon in a small amount of filling and fold pasta in half, then pinch shut. Using the tines of a small fork, pleat edges of pasta. Drop sealed pasta into boiling, salted water 3 to 4 minutes. Once they float, remove from water.

Place agnolotti in the center of a shallow, round bowl. Slice scallops in half and place each half on top of each agnolotti. Top with vegetables and pan sauce and serve.

Shrimp Filling

Ingredients:

4 Extra Jumbo Gulf Shrimp (16-20 ct., peeled and deveined)
1 tsp. minced shallot
1 tsp. fresh chive, minced
1 tbsp. Boursin cheese
Olive oil  

Directions:

In a large sauté pan over medium heat, sauté shrimp and shallots in olive oil. Remove from heat and roughly chop the resulting mixture, then mix in chive and Boursin cheese. Cool mixture completely before adding to the agnolotti.

Seared Scallops

Ingredients:

3 scallops
Kosher salt
Black pepper
Blended oil

Directions:

Coat the bottom of a small skillet with blended oil and place over high heat. Pat the scallops dry with a paper towel and season both sides of the scallops with salt and pepper. Sear scallops on one side 3 to 4 minutes, then flip and sear for 3 additional minutes. Remove from heat and set aside.

Vegetables in Pan Sauce

Ingredients:

Handful of shallots, finely diced
Handful of beech and shitake mushrooms, sliced
Handful of baby bell peppers
Handful of snow peas
1/4 cup dry white wine
1/4 cup shrimp stock

Directions:

In a large skillet over medium heat, sauté vegetables for 2 minutes. Deglaze pan with wine and add shrimp stock, then reduce heat for 3 minutes or until liquid begins to thicken.