By Liesel Schmidt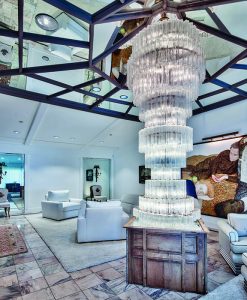 Imagine, if you will, a stunning space perched high in the sky, with sweeping views of pristine white beaches and a jewel-like ocean that glitters and glows in the light of sunrise and sunset like a priceless gemstone on display. What more fitting display for such magnificent natural splendor, then, would be a jewel-box made of mirrors and glass, marble and crystal—all hand-carved and inlaid and sculpted to be a virtual prism of air and light and color refracted and reflected to become a breathtaking space whose very purpose is not simply to house treasures with monetary value—but to house treasures whose value is inestimable and becomes increasingly so with each and every breath and each and every memory.
Such is the home of John and Kathy Bowen, a 4,000 square foot penthouse unit that towers above the city below it from its lofty location at Grand Mariner. Naturally enough, the building's moniker—to mention its locale—would make one assume that the home would stay true to the expected, offering an open-plan layout with light woods and whites and the soothing colors of the coastal palette. But rather than following the trend, the Bowen's home flies in the face of convention, offering instead an experience that takes the eye captive and never, ever lets go.
Built originally in 1983 as the home of Hubert Norton, the unit's very specific touches could easily have kept it from being the right home for a buyer in this area. More befitting of a more metropolitan city accustomed to such high-end and avant gardefinishes, the magnificent spaces at 802-B Grand Mariner are certainly nothing short of mind-boggling, with walls completely clad in mirror, wall to wall marble flooring, and prismatic partitions that bend and bounce light with every facet. But it was those very details that captured the Bowen's hearts and imaginations—though those sweeping views of the treasures awaiting them just outside certainly offered an irresistible allure all of their own.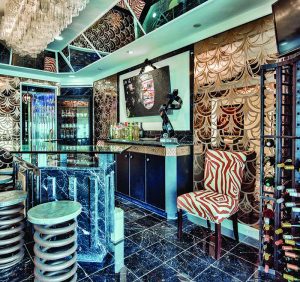 Though the Bowen's have put their own marks on the home by incorporating their own furnishings and creating a gallery-like space in the foyer for their favorite pieces by local artist Justin Gaffrey, much of the condo's original details remain untouched, so special are they to the space. Capturing focus from the point of entry, the foyer runs the width of the condo to offer unobstructed Gulf views, with pride of place commanded by a floor-to-ceiling chandelier made of hundreds of pieces of hand-blown glass that illuminate the room in an ethereal light that seems to echo from the sea of marble stretching as far as the eye can see.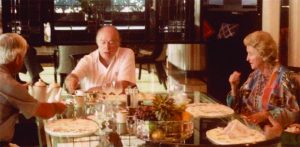 Perfect for an aspiring chef with a love for the sleek look of stainless juxtaposed by the stark ying and yang of white marble countertops and black marble flooring, the kitchen is also original to the home, an almost futuristic space that offers secret passage to a dining room of equally epic details. Boasting luxurious, cloth-lined walls overlaid with an unbroken series of translucent tubes that bring emphasis to the silver and gold accents in the pattern of the cloth, the floor is no less of a focal point to the room, as the white marble flooring underfoot is under-mounted with lights to illuminate the dining table area—a table that has, over the course of its lifetime, seated the likes of such notables as Bob Hope; Dean Martin; Sammy Davis, Jr.; and George W. Bush. "One of the things we loved so much about the condo—apart from the views, of course—was its history," says John, who spends his days as the CFO of a software firm.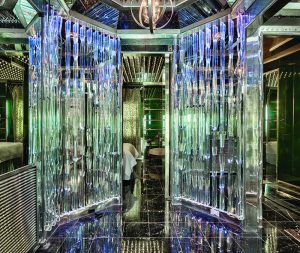 As one could only hope, not a single room in the three-bedroom, three-and-a-half-bath condo is left without remarkable detail of some kind. In one guest room, green enamel walls give the space an almost jade-esque feel, while another is completely walled in mirrors. Only befitting of the masters of the home, the master bedroom boasts a high-gloss ceiling backlit with a series of lights to give it the look of a star-filled night sky and a custom-designed bed whose headboard is essentially a series of mirrors installed at various heights and angles extended above to create a reflective canopy.
And while it could certainly be difficult to tear one's eye away from any one of the fantastic details of the home, it is the coziness of the den with its down-filled couches, Persian rugs, and antiques collected by the Bowens throughout their lives that claims thisplace as their favorite—a space that seems almost an unexpected peek at tradition in the midst of such departure from convention.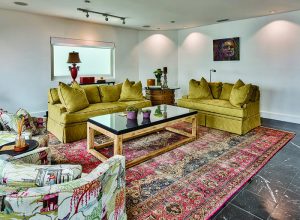 Regardless of where one's attention wanders in this home, however, it is the reflection of the light on its many surfaces that could be said to be its greatest feature—light that spills in from its expansive windows whose sole purpose is to frame the natural beauty just outside. And that natural beauty is the very gem that makes this house a jewel-box home.