story by Liesel Schmidt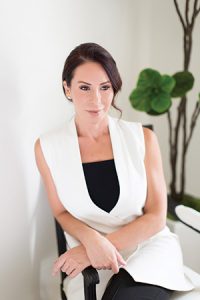 To see the sweeping porches, the towering columns, the massive mullioned windows, and the sheer size of the stately white French colonial-inspired home that sits overlooking Hogtown Bayou, one could hardly be faulted for wondering what might be inside. It holds such an air of refinement, a distinct sense of Southern gentility, that it could almost be imagined to be a heritage home, rather than one built less than a handful of years ago.
Such are the characteristics that permeate every square inch of the 3200 square foot house that Angela Bontemps calls her home, those very qualities that seem to sink into her soul at its deepest level and calm her. It is the very reason she loves her space so much, the undeniable, unexplainable peace and tranquility that reaffirm, every time she crosses the threshold, that this is it—this is her haven.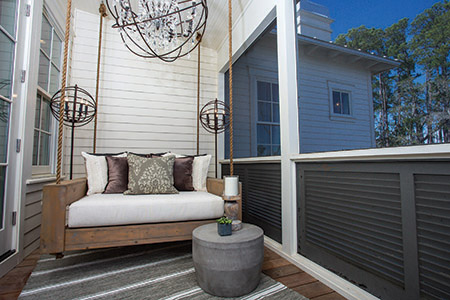 And it truly is HER, as Bontemps is not only the owner of the home, but the interior designer behind every last finish and detail, as well, her many years of design clearly coming to bear everywhere throughout its many rooms. Naturally, her talents are notable, and the classic modern touches that run through the house offer undeniable proof that the woman knows beauty when she sees it. Not that anything is overdesigned or stuffy. Rather, there is a perfect balance of Southern grace and classic design with the perfect hint of rusticity and industrial flair—most notably in the exposed beams and the reclaimed brick that were shipped in from Chicago, a unique detail that the former native of Peoria, Illinois loves to point out.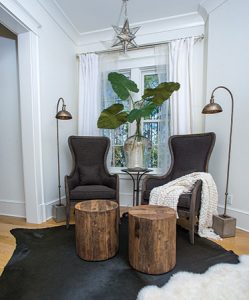 White oak floors run throughout each of the home's two levels, flowing seamlessly from room to room and keeping the atmosphere light, yet grounded. And while the luxuriously appointed master suite could easily claim pride of place as her favorite space in the house as it does with so many busy professionals at the end of the day, Bontemps considers the kitchen to be one of her happiest places. "I really enjoy cooking, when I have the time," she says.
With its Wolf and Sub-Zero appliances, massive island topped in honed statuary marble, and custom perimeter cabinetry topped in quartz, the kitchen would be many an aspiring chef's dreams come true, serving as the perfect inspiration for exploring new cuisines and learning new techniques. But running a close second is something one might not expect from a modern woman on the move, as Bontemps takes every opportunity she can to curl up on the bed swing that hangs from the roof of the outdoor sleeping porch on the second level with a book and a glass of wine in hand. "It's absolutely my favorite place to catch up on my love of reading, and I love that I can see the Bayou when I sit out there."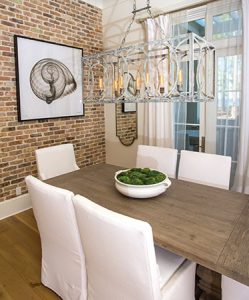 That view is something that weighed heavily on her decision to claim this location as hers, and the fact that no view is a bad view was all the more compelling. "I have an amazing view of Hogtown Bayou from every area of the house, and being surrounded by all of the old oaks gives me a sense of unexplainable serenity," says Bontemps, who shares the home with her two Yorkshire Terriers, Kiki and Zeke.
At the end of the day, that's what it's all about—coming to a place that feels like home, that welcomes you to relax and let go, that offers you a sense of peace and calm like nowhere else can. It's a place where you can sit and take in the view, listen to the whisper of the wind in the trees, and close your eyes to everything else in the world as a sense of belonging sinks into your bones and lulls you to sleep.