Story by Anna Stockton
Whether you're a fan of the ever-popular cherry popsicle or you like to take a walk on the wild side with a root beer flavor, popsicles are bound to bring back a memory or two.  This sweet, refreshing treat reminds me of hot summer days growing up in Florida, after hours of running through the sprinkler or clotheslining each other in heated games of red rover. Popsicles were always a way for the neighborhood kids to cool down together.
It probably wouldn't come as a surprise that popsicles were invented by a child.  That's right, in 1905 11-year-old Frank Epperson left homemade soda on his porch overnight with a stir stick in it. The next morning he found that the soda had frozen and he could eat it by holding the stick. They didn't get the name popsicles right away.  Like any 11-year-old would do, he named them after himself and Epsicles were invented! It wasn't until 1923 that an older and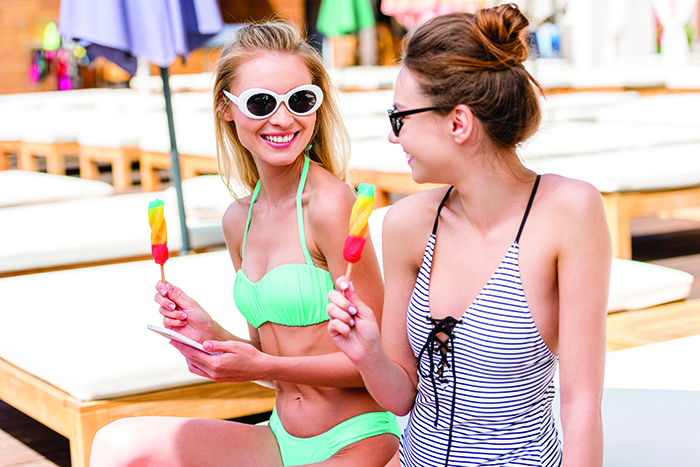 more sophisticated Frank patented his creation that he renamed popsicles, named that because his children would ask for "pop's sicles." In no time, this new sweet treat took the country by storm.  In the early 1920's it's estimated that Coney Island Amusement Park sold over 8,000 popsicles in one single day.  Epperson's passion for cool inventions didn't stop at popsicles, he would go on to patent the fudgesicle, the dreamsicle, and the creamsicle.
While store bought popsicles have expanded their flavors past the traditional cherry, banana, orange, grape, watermelon, and root beer, there's nothing like a homemade popsicle to show off your creative side. The possibilities are endless and whether they're for the kids, adults, or the pups, homemade popsicles will sure take any gathering up a notch.  Fun molds, mixing of flavors, and adding a little "spirit" are all great ways to shake up your summertime fun!