by Liesel Schmidt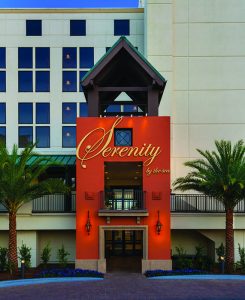 Spas have long been considered a luxury, once-upon-a-time viewed as places reserved for and frequented only by those whose finances would allow such indulgences of time and extravagance. But as times have changed, so, too, has the wider public perception of spas, bringing with that shift in mindset a whole new sense of purpose for spas, redefining the industry as something offering far more than pure pampering and extravagance. Naturally, the desire to be cared for and looked after, to be swept away into a sea of calm and relaxation—if only for a few sweet hours at a time—is always a priority and a driving force. But with a new approach to true, whole mind-and-body rejuvenation, spas like Serenity by the Sea at Hilton Sandestin Beach Golf Resort & Spa are shifting the waters to provide guests the beautiful pearl of holistic health.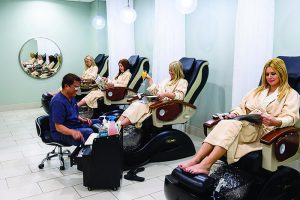 Located within the sumptuous and glittering towers of the Hilton Sandestin Beach Golf Resort, Serenity by the Sea Spa features a salon equipped with hairstyling and makeup chairs and a lounge-like manicure and pedicure room, in addition to boasting everything imaginable for creating a complete experience for mind, body, and soul. Within its 14,500 square feet, the spa also holds a total of 16 treatment rooms offering every type of service—from facials and body wraps to waxing and massages—each space providing calm serenity and undeniable elegance that is a reflection of the Hilton hallmark or unsurpassed excellence.
As one might expect, it is the spa's services themselves that set it apart from others in the area, offering an impressive range of rejuvenating treatments for both men and women created with the sole focus of bringing nothing but the best—and taking a cue from its surroundings. "Being located directly on the Gulf of Mexico's shoreline, Serenity draws inspiration from the sea, incorporating mineral-rich, marine-based products into many of its services," says Spa Director Shanelle Lucas. From Hydrafacials and Seawater Pearl Facials to Ocean Water Massages and even the simplest of manicures, there is no aspect of service that is overlooked in delivering the same standard. And it shows, as Serenity has handily gained accolades both far and wide for its superiority. In the national arena, USA Today awarded it in its listings of "10 Best Summer Spa Treatments Under the Sun in 2015, while Serenity claimed prestige as Number 26 in Condé Nast Traveler's"Reader's Poll of Top 100 U.S. Resort Spas" in 2013. More locally celebrated in such publications as VIP Destin Magazine, Visit South Walton, Spa Finder, Emerald Coast Magazine, and Northwest Florida Daily News, Serenity is a favorite for everything from hair services to its specialties in massage.
Clearly, the spa is no longer a strictly feminine arena, and the various needs of both men and women are each given equal due. Separate men and women's areas lay claim to the spa, each of the spaces equipped with their own locker room facilities, heated whirlpool spa, sauna, steam room, and a well-appointed lounge fully stocked with an array of snacks and drinks. And while the men might choose to wind down in front of their very own big screen television or take a bracing drench under the cold-plunge shower, the ladies can luxuriate in the plushness of the comfortable recliners or the "zero-gravity" chairs found in the women's relaxation rooms.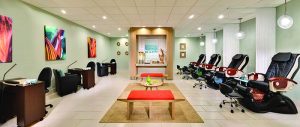 For those focused on incorporating fitness into their spa experience, Serenity's state of the art fitness center is open 24 hours a day, seven days a week for Hilton guests and spa members. Use of the fitness center is also available to spa guests on the day of their treatment and features Precor cardio machines with their own TV screen as well as weight training machines. To take health and wellness goals to the next level, the fitness center also offers personal training, a wide range of fitness classes, and even personal consultations with their on-staff nutritional expert.
Fortunately for those in the local community whose accommodations take them to their own homes rather than the sumptuous setting of the resort, spa memberships are available to them, as well, offered on a monthly, six-month, or annual basis, with various package options that give members various levels of benefits. Families and corporate annual memberships are also a great option; and members are given access to all three of the Hilton's swimming pools, the fitness center, and discounts on all spa treatments and services as well as use of the lounges.
And regardless of whether you're there for an entire day of pampering or a quick hour of primping, Serenity by the Sea at Hilton Sandestin Beach Golf Resort & Spa has everything one might need to escape on a relaxing tide of luxury.
Serenity by the Sea at Hilton Sandestin Beach Golf Resort & Spa is located at 4000 Sandestin Boulevard South, Miramar Beach, Florida 32550. For more information, call (850) 622-9595 or visit www.serenitybytheseaspa.com.