photos by 30A Food & Wine | story by Liesel Schmidt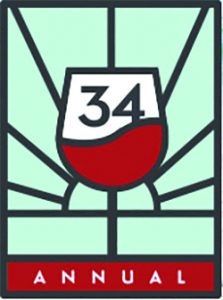 Running each year for four spectacular days in April, the Sandestin Wine Festival has been immersing the Emerald Coast in an unforgettable experience filled with award-winning wines and chef-created cuisine for the past 34 years. And while this highly anticipated event could easily stay on the radar of only the locals, it has gained a reputation as being one of the top wine festivals in the country, featuring renowned chefs, vintners, and vineyards whose talents and products draw in crowds from far and wide.
Creating a can't-miss experience is top priority for the wine festival, offering opportunities to taste, smell, sip, and savor provided at every turn as The Village of Baytowne Wharf transforms into a veritable village of tents with everything from cooking demonstrations by award-winning chefs and samples of exquisite cuisine to wine tastings and informative presentations given by various wine experts and representatives from vineyards around the world.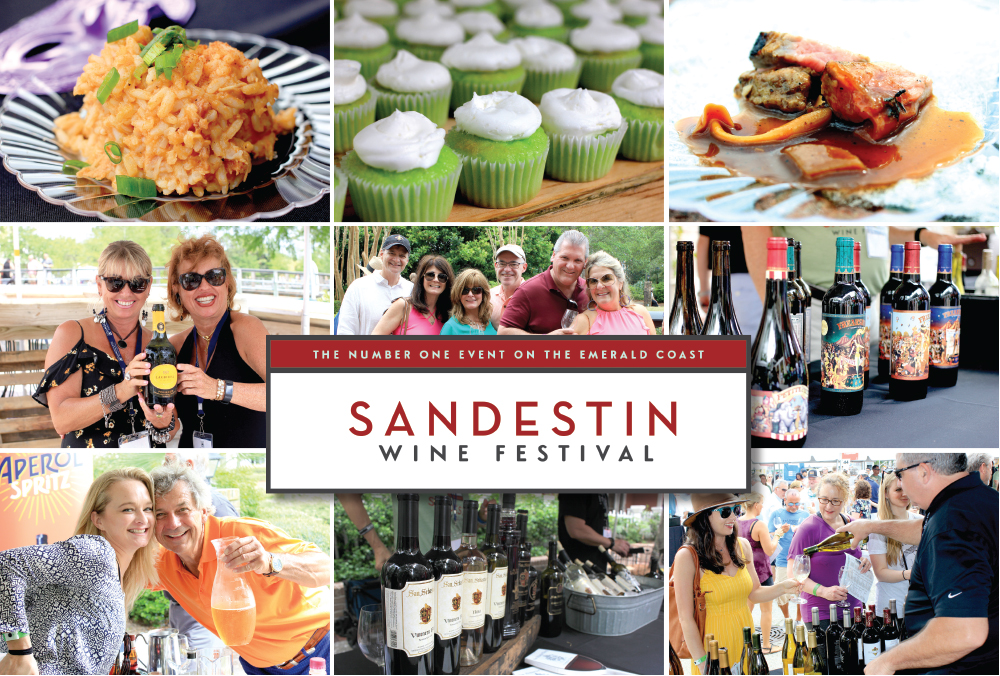 "This event continues to bring a wide range of experiences for all guests, including meeting wine experts from across the globe and having the opportunity to taste unique, hand-selected wines," says The Village of Baytowne Wharf Events Manager Leighann Elliott. "We host roughly 4,000 people over the course of the four-day weekend, and the festival is a picture-perfect series of events, complete with white tents, flowing wine, gourmet food, live music, one-of-a-kind seminars, wine dinners, grand wine tastings, and culinary experiences. The main events, known as our Grand Wine Tastings, showcase more than 500 domestic and international wines over a two-day span, and guests can enjoy the opportunity to talk to vineyard owners and wine makers about their favorite appellations or try something new," Elliott goes on. "During the Grand Wine Tastings, guests are also treated to a gourmet experience—courtesy of some of the best chefs on the Emerald Coast; and Savor South Walton tents are sprinkled within the festival to allow guests to pair delectable bite-sized appetizers with their current glass selection."
Starting things off on Thursday, April 16, the Kick Off Party features bite-sized appetizers and mixed drinks as well as craft cocktails from Timber Creek Distillery. During the Wine Dinner, guests will enjoy a gourmet experience at select restaurants throughout The Village. Friday brings with it the Champagne & Seafood Lunch Cruise and Grand Wine Tastings as well as a VIP Lounge experience, while Saturday eases into the weekend with Mind, Body, Beach—a unique event featuring yoga and mimosas on the beach geared toward the rejuvenation of body and mind. On Sunday, guests can indulge in a Bubbly Brunch as the weekend of festivities comes to a close.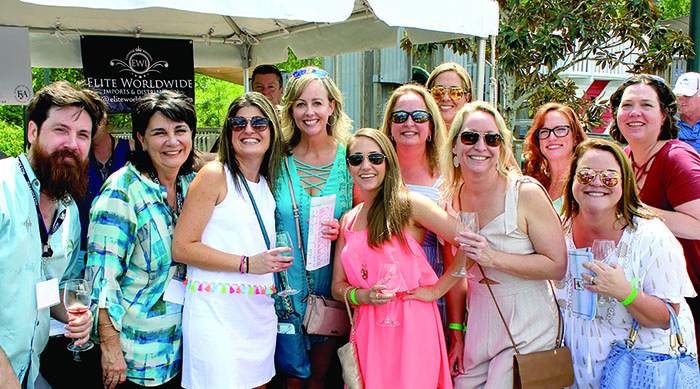 Naturally, the daily wine tastings are a must, as anyone with a penchant for sipping something new can satisfy their curiosity and perhaps even find a new favorite. Pairing perfectly with each pour, Savor South Walton tents scattered throughout the grounds offer samplings from acclaimed local restaurants that showcase the culinary genius of some of the area's best chefs—and prove the level of talent at work along the Emerald Coast. Each day during the event, the ABC retail tent offers the opportunity to purchase any of the domestic and international wines featured during the tastings at special event pricing.
Keeping things effervescent with excitement, the Bubbly & Boozy tent on the Grand Sandestin Lawn is back for its second year, offering champagne and sparkling wines, specialty liquors, and a wide array of luxurious desserts. "It's become a festival favorite," notes Elliott.
From first pour to last sip, the Sandestin Wine Festival is an annual event worth relishing—and 34 years have made this one full-bodied event.
The 34th Annual Sandestin Wine Festival runs April 16-19, 2020.
For event information and tickets, visit www.sandestinwinefestival.com.