story by Liesel Schmidt | photos provided by The Crab Trap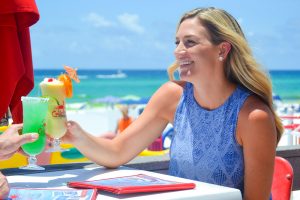 Boasting a waterfront location on Crystal Beach that affords them easy access to public beaches and perks like pavilions, picnic tables, and dune walkovers as well as great seafood and refreshing cocktails, The Crab Trap isn't just a beachside eatery—it's an experience and often a tradition for families, year after year. In fact, that's a point of pride for them, as they've placed a great deal of emphasis on offering fun for everyone, going so far as to create a beachfront playground that affords adults the opportunity to truly enjoy their experience while kids run wild and free on the beach. Talk about keeping the crabbiness away!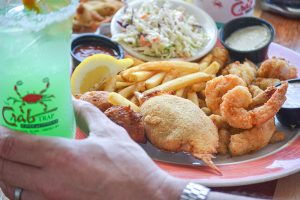 Their success is clear; and for more than twenty-five years, this place has been a bustling hub of activity, feeding droves of hungry visitors and locals who crave the crab. As the name would indicate, that's precisely what The Crab Trap's menu centers around, offering fifteen items on the menu that feature some iteration of the tasty crustacean, from crab dip and crab cakes to crab legs and crab-topped pasta. And they're certainly doing something right, as they've got a reputation for their crabby attitude, utilizing sustainably sourced, wild-caught Alaska crab and running through tens of thousands of pounds of crabmeat on an annual basis. Alaska king crab, Alaska snow crab, Bairdi, Dungeness, jumbo lump crabmeat, and blue crab claws…They're all present and accounted for, and diners can't seem to get enough. So much so, in fact, that The Crab Trap now boasts three locations—one at The Boardwalk on Okaloosa Island and one in Perdido Key—each of which maintain that Crab Trap signature dedication to food and fun with their outstanding menus and beachfront playground.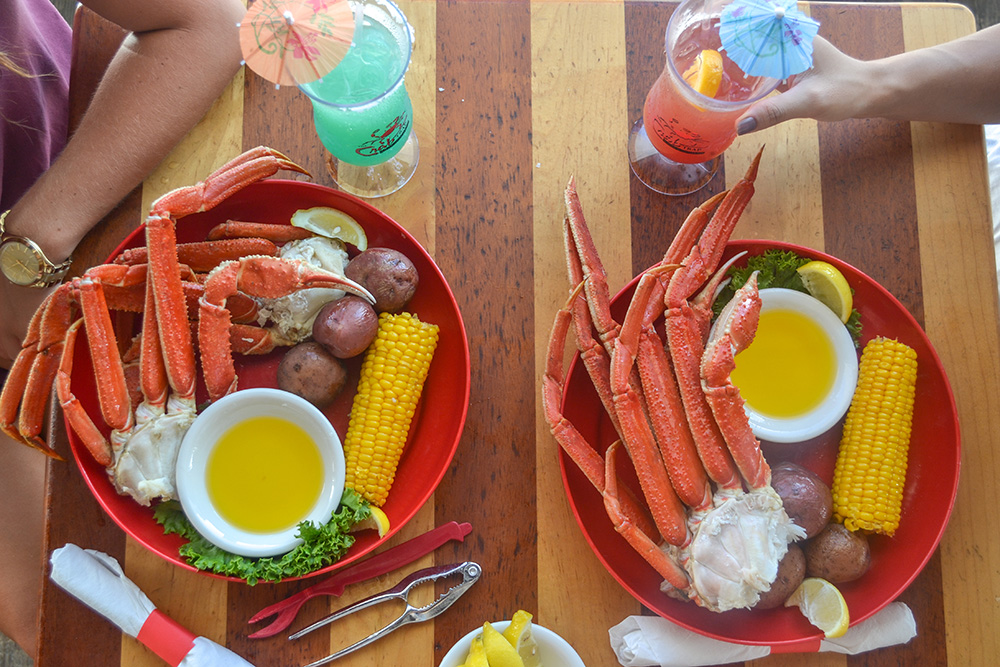 Obviously, if you're coming to get a case of the crabs (and we know you are), you'll want to go all out. For a taste of the best, the Bairdi Crab Dinner offers something truly special, serving up the meatier, sweeter crab with an ear of corn and new potatoes, making it the perfect seaside meal. Want more? A triple threat that'll really get you crabby, the Ultimate Triple Crab Combo for Two features a full pound each of Dungeness crab, wild Alaska Bairdi crab, and Alaska snow crab legs, with double sides of corn and new potatoes, making it a feast for two that'll really get you trapped up in deliciousness.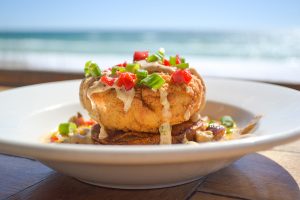 Not to be forgotten, their signature crab cakes are a top seller—and with good reason, as these tasty cakes utilize very little filler, featuring 85 percent crab meat in each handmade cake and serving them atop a fried green tomato with roasted corn maque choux, Andouille sausage, and a spicy remoulade sauce to bring a bit of New Orleans to the Emerald Coast.
Naturally, they realize that man (or woman—they see you, ladies) cannot live on crab alone, so The Crab Trap puts the same level of focus on every dish they put out, from juicy burgers featuring a premium blend of grain-fed Black Angus beef to best-sellers like their signature Crab Trap Mahi, a perfectly grilled Gulf-caught mahi-mahi fillet topped with tender lump crab meat and plump local shrimp drizzled in a light lemon butter sauce. There's a clear understanding of ingredients and the way they play together on the plate, balancing the flavor profiles of the seafoods, fish, and meats with sauces and spices that compliment them and allow them to shine. And above all else, they recognize the importance of quality and sustainability—especially when it comes to their seafood.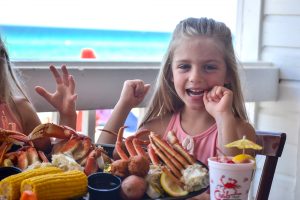 "One of the things that we place a great deal of emphasis on is our dedication to the Gulf-to-table movement, so we've created our very own wild fish processing facility," says Marketing Director Misty Rae Ruthrauff.  "It's the hub for all locally-sourced seafood used at The Crab Trap and its sister restaurants, receiving deliveries each day straight from the Gulf and preparing over 250,000 pounds of fresh-caught Gulf seafood including shrimp, grouper, snapper, mahi-mahi, cobia, wahoo, and amberjack each year."
Doing those gorgeous goodies from the Gulf justice with every plate they present, it's no wonder that their grilled daily catch catches a lot of attention, but so do their flavorful offerings from the fryer. Perfect if you're craving that golden glow (and we're not talking about your tan), The Captain's Platter has just the thing to satisfy, offering Gulf shrimp, sea scallops, deviled crab, and fresh Gulf fish, hand-breaded and lightly fried to a crisp, golden crunch that'll make you forget you're supposed to be working on your bikini body.
Whatever you order, one thing's for sure—The Crab Trap is all about the flavor and the fun, and this is one place where you'll really want to get trapped.
The Crab Trap Destin is located at 3500 Scenic Highway 98 East, Destin, Florida 32541. For more information, call (850) 654-2722 or visit www.crabtrapdestin.com. Visit sister locations in Perdido Key and Okaloosa Island.
The Crab Trap Signature Smoked Tuna Dip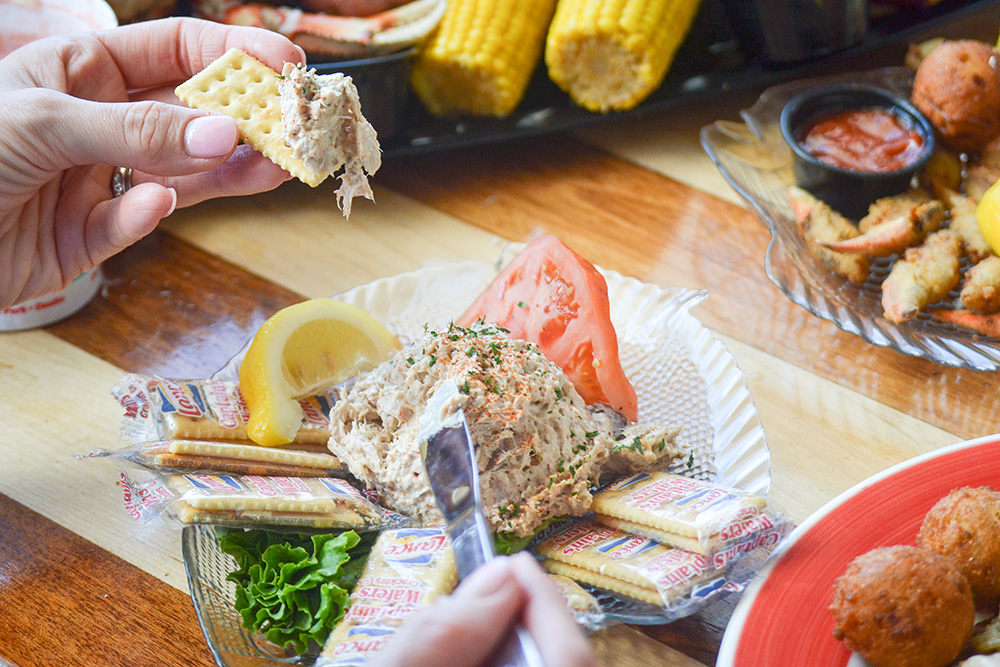 Ingredients:
2 lbs. fresh Yellowfin tuna
2 cups mayonnaise
2 tsp. Old Bay seasoning
2 tsp. Chipotle Tabasco sauce
2 tsp. Worcestershire sauce
Directions:
Smoke tuna over hickory wood chips in a smoker at 180 degrees for one hour or until fully cooked. (Note: Traditional grill can be substituted; grill over medium heat until tuna is cooked.) Remove from heat and cool for 30 minutes. Break cooled tuna into small pieces and place in refrigerator to chill. In a mixing bowl, combine all other ingredients. Add tuna chunks and stir together until fully combined. Serve with crackers or cucumber slices.
*Adapted recipe provided courtesy of The Crab Trap.