By Greg Alexander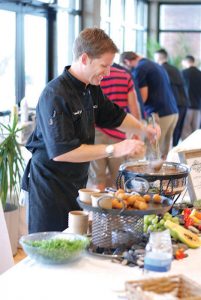 Most of us get that feeling at some point of each day – you know the one, where your body is saying "feed me!" You may have eaten less because you were rushed or maybe you are just late for your next mealtime. Regardless, most of us just run to the kitchen, grocery store, or nearest drive thru to satisfy that slight sense of hunger. In reality, there are thousands of people in our community that do not have the luxury of those same options. In fact, 25% of our children are struggling with food insecurity. Thankfully, there is an agency helping to diminish those numbers. Feeding The Gulf Coast works in 24 counties in Florida, Alabama, and Mississippi with a local warehouse in Milton. Collectively, Feeding The Gulf Coast distributes over 20 million pounds of food annually, which equates to 18 million meals.
Feeding The Gulf Coast is part of the Feeding America network, which gives them substantial buying power and allows agreements with big box grocers. They also help reduce waste through their Retail Store Level Pickup Program, which partners them with retail grocers such as Publix, Walmart, and Winn Dixie to rescue the food they cannot sell. When these stores have product at or nearing its expiration, they set it aside to donate to the nearest Feeding America food bank rather than throw it away. This reduces food waste and feeds people in need. Last year, they rescued over 1.9 million pounds of food from 25 stores in Escambia County alone.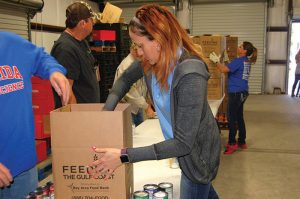 Just in Escambia and Santa Rosa counties, Feeding The Gulf Coast supplies food for approximately 90 partner agencies including church food pantries, soup kitchens, and group homes such as Waterfront Rescue Mission, Catholic Charities, and Salvation Army.
Some of the food bank's programs include Child Nutrition, Community Gardens, Educational Cooking Classes, Mobile Pantry, and disaster relief. They fed more than 1,200 children through the Child Nutrition Programs, including Summer Food Service, Afterschool Snack, and Backpack. Child Nutrition Programs feed children at risk of going hungry when school is not in session. The Afterschool Snack sites they partner with also provide enrichment programs to the children they serve, including teaching them soft skills and homework tutoring.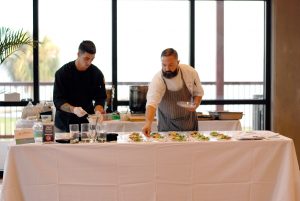 Over 20% of their food comes from the USDA. Another large percentage comes from purchasing truckloads of food. Some of their outreach programs are privately funded such as the Backpack program. Donations are made mainly through their website where $135 can feed a child for a year through this program. Community Gardens exist in other markets where kids learn about planting and growing food. Master gardeners donate their time with this cause and they are currently seeking areas in the Pensacola area to start gardens.
Cooking Matters is a partnership with UWF through the extension service where mobile pantries are set up in rural areas and the recipients are taught how to cook with the items in the mobile pantry.
Feeding The Gulf Coast also plays a large role in disaster relief and has recently been very helpful to assist their partner agencies in the Feeding America network by sending food, staff, and resources to Texas and other parts of Florida for hurricane relief work.
---
Q & A with Cathy Pope of Feeding the Gulf Coast
What is the mission of Feeding The Gulf Coast?
As a member of Feeding America, and a United Way Member Agency, Feeding the Gulf Coast works through member organizations and special programs to provide nutritious food to meet the challenge of feeding people who are hungry as a result of personal crisis or disaster. We also educate the public regarding domestic hunger, proper nutrition and related issues.
What are some of the greatest challenges your organization faces?
We have outgrown our warehouse in Milton, Florida, and the distance to Bay County creates distribution challenges, which in turn limits our ability to expand our Child Nutrition Programs. However, we are currently reviewing options for a satellite warehouse in the eastern portion of our Florida service area.
What is the most rewarding part of your involvement with the organization?
Knowing that my efforts are put into serving my community and helping those who are struggling with hunger is the most rewarding part of my job. My desire is to make a difference. When we get stories and letters from clients who have received food from us or from children who learned about nutrition and gardening from us, I see that the work we are doing matters and makes a real difference.
What does the future of your organization look like?
It involves expansion and greater impact in our community. We plan to expand our existing warehouse in Milton to increase the amount of food we put out into the community and strengthen our ability to serve during disasters. Right now, Florida is seeing the terrible effects of Hurricane Irma, and we want to make sure that we are ready to act immediately should we get a direct hit from a hurricane or tropical storm. We are seeking funding to get a back-up generator installed at our Milton warehouse. We are also looking at setting up an additional warehouse in the eastern part of our Florida service area to house more food, provide volunteer opportunities, and expand our Child Nutrition Programs in Bay, Holmes, Walton, and Washington counties. We will have a larger presence in the community and have more emphasis on educating the public regarding local hunger. Our goal is to feed every one of the estimated 160,000 Floridians, including 48,000 children, struggling with hunger in our service area.
What is one thing you want readers to know about Feeding the Gulf Coast?
Partnerships are crucial to the work we do to fight hunger in our community. We are working every day to feed hungry children, seniors and families. We cannot do this work without the support of the community.
How can someone become involved or donate?
On our website, www.feedingthegulfcoast.org, you can find out information regarding monetary donations and volunteer opportunities, as well as food and fund drive events.