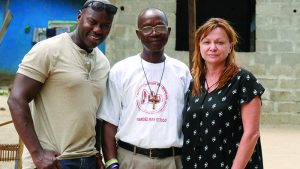 Janet Reeves, nurse practitioner at Dr. Bawa and Associates, and Zhalman Harris, photographer at VIP Destin Magazine, made an impromptu humanitarian mission trip to Liberia in West Africa. The two met at a dinner party in Destin where Janet became intrigued by Zhalman. His accent and mild manner prompted her to ask questions. When she realized he was once a refugee and orphan from a war-torn country, she probed more to get information on the current situation in his homeland. After Zhalman had explained in detail the plight the country in which he was born was facing, and about his hope of going to give back and also look into turning the now public school his grandfather opened in the 1960's to a private nonprofit school to give kids a better education, Janet became even more interested. "Deciding to go to Monrovia came easy," Janet said. "After going to Nicaragua 12 times on medical missions and working stateside with Hispanics and underprivileged people it's like second nature to me to just go and do something good for those who are not in the position to do for themselves or just don't have their basic needs met."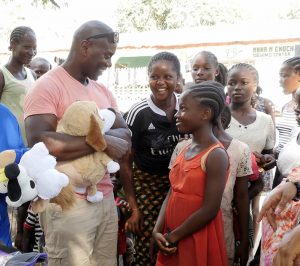 After three weeks of planning Janet and Zhalman began shopping, taking contributions, and procuring donated items. For their mission trip to Africa, they took over 250 pounds of items including clothes, flip flops, toys, books, vitamins, and most importantly medications for the kids who had some sort of illness. The two-man team visited two orphanages where Janet did some wellness checks and also saw kids with malnutrition, iron and vitamin deficiencies, coughs, colds, ear infections, bronchitis, skin rashes, and parasite infections.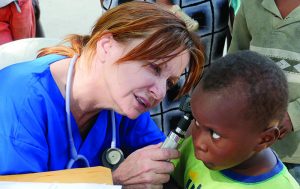 Janet was able to see and treat over 60 kids. The two most serious cases were an 8-month old baby who was born without eyes and a 4-year old girl who was getting fed with a feeding tube after drinking poison, which had severely damaged her esophagus and stomach. The team left a 6-month supply of vitamins and iron supplements, a year's supply of parasite treatment, antibiotics, and antifungal meds.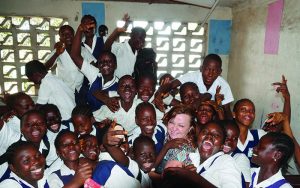 Now, the pair are back home planning another trip in 6 months to take back more than what they gave on their first trip. Even though the trip in 2018 made a difference for the recipients at those orphanages, it is just a scratch on the surface because there is a lot that needs to be done to get those kids back on track.