Story by Steve Barber
Hurricane Season is here and the best way to embrace it head on is with the Hurricane cocktail. The Hurricane is an iconic, tropical cocktail made with light and dark rum, passion fruit juice and other fruit juices. The Hurricane is a popular drink served in New Orleans and the Southeast United States and is traditionally served in a tall, curvy "hurricane glass," although in the French Quarter, where public alcohol consumption is legal, you often see it served in disposable plastic cups – some of enormous proportions. The name "hurricane"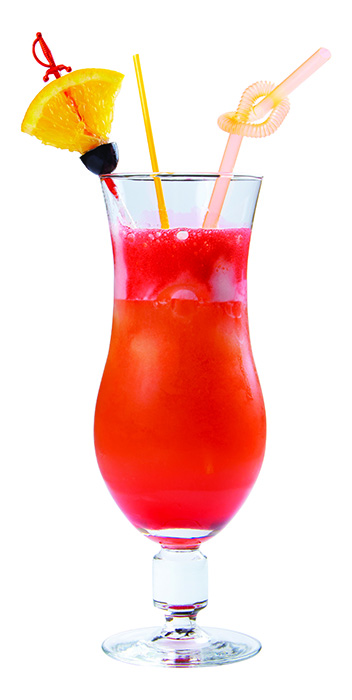 most likely came from the strength of the drink as well as the first vessel the drink was sold in. The average hurricane has an alcohol content of about 18 percent ABV (36 proof).
The history of the Hurricane cocktail is an interesting tale of supply and demand, inspiring what would become a legendary cocktail, especially in the South. The creation of the passion fruit–colored drink is credited to New Orleans tavern owner Pat O'Brien whose bar allegedly started as a speakeasy called Mr. O'Brien's Club Tipperary and the password was "storm's brewin." In the 1940s, O'Brien needed to create a new drink to help him get rid of all of the less-popular rum that local distributors forced him to buy before he could get the preferred liquors such as scotch and whiskeys. He poured the concoction into hurricane lamp–shaped glasses and gave it away to sailors. The drink caught on, and it has been a mainstay in the French Quarter ever since. The O'Brien's bartender at the time, Louis Culligan, published the first hurricane recipe in an issue of Cabaret magazine. Another story says that it debuted during the 1939 New York World's Fair in Queens and was named after the location it was created in, The Hurricane Bar.
The hurricane cocktail is a relative of the daiquiri and includes many variations including the blue hurricane, Hawaiian shooter, Bahama mama, and a Jamaican rum punch, just to name a few. There are also variations of the Hurricane, depending on where it is made, and they may use ingredients like Navan liqueur, orange juice, Grand Marnier, or Irish cream. As for the most popular recipe, it usually mentions the usage of one-part dark rum, one-part white rum, passion fruit syrup and lime juice. The hurricane cocktail is made differently on the islands of the Bahamas where the drink is composed of various measures of coffee liqueur, 151 rum, Irish cream, and Grand Marnier. It is commonly found in the downtown bars of Nassau.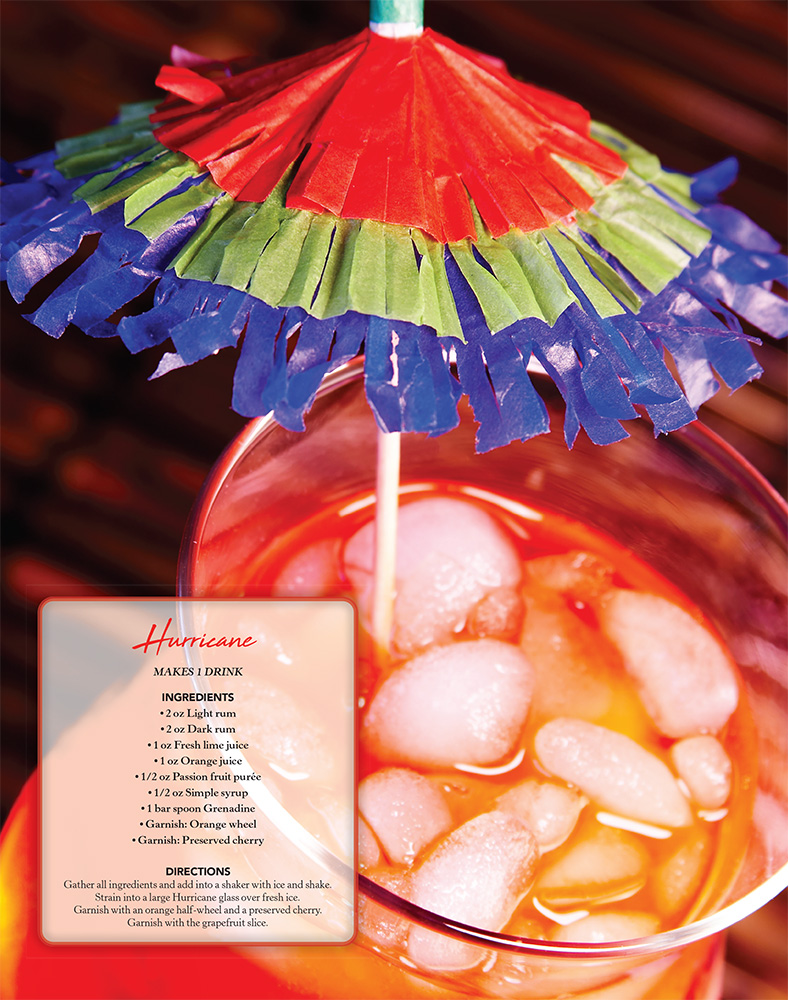 Although you can enjoy this fruity tropical cocktail during the balmy days of summer or year around, actual hurricane season ends November 30. Enjoy!