photos provided by Velia Lala | story by Courtney Murray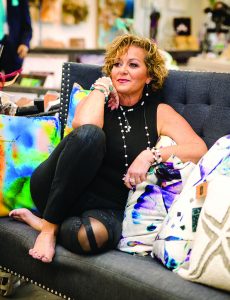 Peter Pan once said, "It is not in doing what you like, but in liking what you do that is the secret to happiness." Velia Lala is one individual who is lucky enough to do both. It is increasingly rare in today's world to love your work; but in doing so, you throw open the doors of your life and give way to exciting new opportunities. Velia Lala was born and raised in Louisiana, and over the course of her thirty-year career she has worn many hats. Art was always simmering on low on the back burner for Velia. Dabbling in art during her early twenties by creating ceramic masks, led to experimenting with different art forms at the end of her work days and on weekends. She described, "There was always that innate desire to be able to be creative on a full-time basis and at the end of 2010 I just took a leap of faith." Velia has been shaking up the art world ever since creating abstract to classical castings; each piece a one of a kind uniquely beautiful creation. Velia forms her original and custom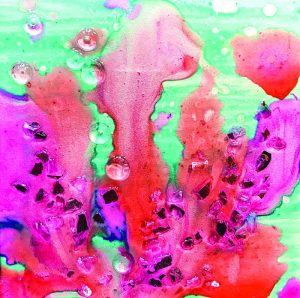 works through acrylic, mixed medium, epoxy high gloss, photography and body casting/bronzing; constantly growing and learning through a wide array of artistic techniques. Her pieces stand out with her use of vibrant colors, unique patterns and interesting textures. It was a natural leap to then delve all in to the world of fashion, with a truly special line of Wearable Art clothing and stand out accessories. Velia is constantly inspired by the world around her and every day she is surprised by what stands out. "I am inspired by music, travel and life's experiences. I've never created an art piece without some genre of music playing in the background or turned up for energy." Her art work has evolved and you can sometimes decipher what her mood was at the time of creation by studying the piece. Her work began as very minimalistic and has now grown to have a life of its own with very textural canvases of all sizes.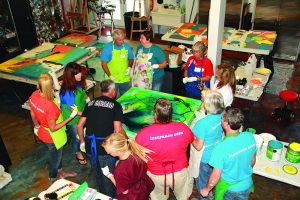 She is now inspiring others through her passion by leading art classes. In 2012 she began teaching art classes out of her home, which quickly gathered attention and a following within the local art community and beyond. Shortly after she became a GOLDEN Art Educator and now hosts classes in her Fort Walton Beach Studio. A lot of group art classes teach you how to paint one object or scene, and then the whole room paints the same thing.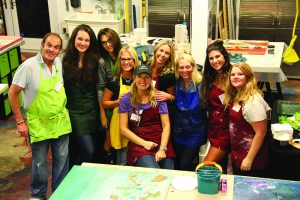 Those are nice, but Velia's art classes take you completely out of the box. The whole group learns the same technique, but then your creativity takes over and you are able to create a beautiful one of a kind work of art. During the "Glitzy Pours" class you work with Expoxy Resin. Another option that's fun for all ages is the "Corrugated Construction with Resin" class where magic happens when cardboard is transformed into a creation that looks like metal. In the "Layered Techniques" class you learn the concept of pattern and flow by adding layers of papers and embellishments to create a unique masterpiece. The interest in these classes became so great that Velia decided to take the act on the road! She decided to expand the art classes to a mobile structure and bring the joy of art to you. She brings all of the supplies to your home, place of business, restaurant, etc. These classes are sometimes private lessons, a party or a corporate team building event. All you need to supply is your imagination. Velia continues to follow her heart saying, "My goal is to show clients that we are critical of our own imperfections, yet when others look at the sculptures, all they see is exquisite beauty."
Velia Lala Designs Gallery is located at 310 Eglin Parkway NE, Fort Walton Beach, FL. Call 985-507-9784 today to schedule a class.