story by Lana Stewart Harrington
Do you notice anything? The clinking of steins, the oompah music and the sweet smell of grain in the air? Oktoberfest is near!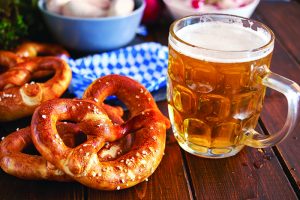 But in September, you say? Yes! Traditionally, Oktoberfest begins in mid-September and runs 16 days, ending on the first Sunday in October. So, for all of you who have only been celebrating in October, good news! You can add another two weeks to your party schedule.
How did the world's largest beer festival and longest-running tradition begin? In the year 1810, Germany celebrated the royal wedding of Bavarian Prince Ludwig and Princess Therese of Saxony-Hildburghausen, who later became king and queen. The multi-day celebration included steins of beer, giant feasts, and horse races. Thankfully, the festivities were such a hit that they became an annual tradition.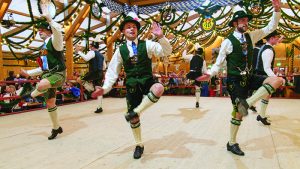 In modern times, Oktoberfest in Munich, Germany, attracts up to six million people who gather together to eat, drink, and be merry. The mayor taps the first barrel of beer, which signals the official beginning of the festival: "O'Zapft is!" which in English means "It's tapped!" Attendees consume roughly 2 million gallons during the festival. Yes, you read that right! There is plenty of fun to be had, including singing in the beer halls, dancing to Bavarian polka music and watching the parades.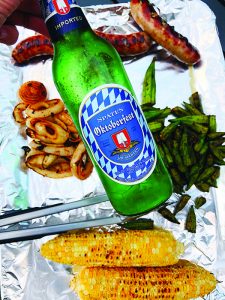 The original six breweries still brew beer for the event with a recipe from the early 19th century. Breweries include Augustiner, Hacker-Pschorr, Hofbräu, Löwenbräu, Paulaner, and Spaten. Oktoberfest beers can be found under different names including the labels Oktoberfest, Festbier, or Marzen. The original style of Oktoberfest beers was Marzen or "March Beer," which was beer brewed in March and kept in cold storage until the fall. It originated from a style called Vienna-style Lager. This beer was darker and maltier than what is served at the event today. Sometime in history Oktoberfest beer changed to a style known as Festbier, a lighter, more quaffable beer.
I love this season of beers because the flavors range from light, crisp, and nutty with a deep golden color to heavy malt, toast, and caramel with an amber-red hue. Topping your beverage off is a thick and fluffy white foam—perfection! Rule of thumb: the true German styles will be on the crisp and clean side, while the American styles tend to be on the malty, nutty, caramel side.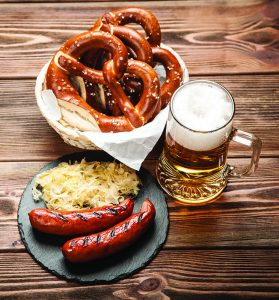 Another reason I love this season of beer is the food pairings. Oktoberfest beers are incredibly compatible with different types of food but are a match made in heaven with German fare like Bavarian soft pretzels with grainy mustard, bratwurst and sauerkraut, Wiener Schnitzel, and basically anything fried. The beer also pairs beautifully with cheese—aged Gouda, Manchego, Gorgonzola. Create a charcuterie board, pair it with an Oktoberfest beer and prepare to have your mind blown. The key to pairing beer with food is that one should not overshadow the other. They're partners. Flavors can complement or contrast with each other. That is what makes the pairing exciting and elevates your meal from "eating" to "dining."
Put on your best pair of lederhosen or dirndl and grab your liter stein. It's time to celebrate the season! While you're at it, support your local brewery and grab a six pack of their Oktoberfest offering. Drink, eat, and shop local!  Finally, drink this beer fresh. It is not meant to be aged. Prost!
Lana's craft beer & food pairing website:
www.LanaDelBeer.com
Follow her on Instagram & Twitter: @LanaDelBeer