By Liesel Schmidt
Styled with a discerning eye that would certainly earn a nod of approval from the likes of Coco Channel herself, there's an air of sophistication in every detail of the home that stands proudly at 3032 Club Drive in the golf-side community of Burnt Pine, a simplicity that exudes refinement and echoes an appreciation for luxury. And while the many impressive features within the 4,940 square foot two-story home could seem stark in their lack of color, so closely does the color paletteadhere to the greys, blacks, and whites that its owners clearly favor, there's a certain warmth to it all that invites one in to sit and stay awhile—naturally with a fine glass of spirits in hand.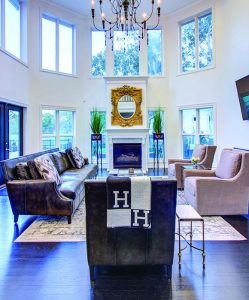 Perfectly appointed for the pair of socially active gentlemen who value the finer things in life and call this stately house their home, the traditional aspects of the interior are a reflection of their own style—one that tends to a desire to stay away from the trendiness of things that will quickly go out of vogue, eschewing them, instead, for pieces whose design are referential of perennial classics. Interspersed here and there, however, one sees the hint of color that seems almost unexpected, catching the eye in interest to see just what it is that dares to introduce a differing hue.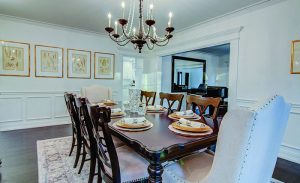 Ensconced withinanimpressive white stucco façade studded with massive windows, the home affords ample space for a number of formal rooms—an office, a sitting room, a formal dining room—each simple yet elegant in their furnishings, most adorned with art chosen with an obvious eye for beauty. Starkly contrasting the whiteness of the gallery-like walls, inky flooring grounds each space, the hardwood flooring that was once pale stained to a rich ebony that seems to bounce and reflect every ray of light from the windows and every fixture's glow.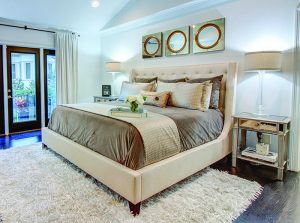 Continuing from the front foyer and sweeping into each room of the ground floor, the hardwoods pool like an infinitely deep lake under a kitchen created entirely of white, the snowiness of the custom cabinetry and wainscoted walls interrupted only by the gleaming stainless steel Thermador and Kitchen Aid appliances, farm sink, and fixtures and the grey-veining of the sleek white marble countertops that run along the kitchen's perimeter and crown its center island.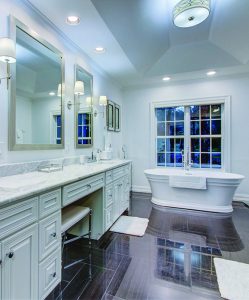 So, too, is the trend continued in each of the three full bathrooms, their white vanities offset ever-so-slightly by grey-veined marble counters that echo those found in the kitchen, their walk-in showers clad in various sizes, shapes, and styles of veined tiles whose configurations are set in a variety of patterns that create diversity from one room to the next. Sized impressively to accommodate the needs of anyone who comes to stay, the three guest rooms offer a view of the grounds below, perched on the second floor that also offers space to a master bedroom whose capacious closet sees to the attiring needs of its masters.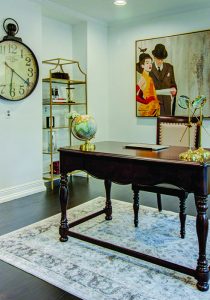 Originally built in 1994, when Charles Alexander and his partner bought the home in early 2018, they put their own mark on things, swapping out pale, neutral beiges that swept though its rooms for a more contrasting, much more formal look that would suit their tastes—though they seem to share the former owner's love of all things cinematic, which plays out in their very own movie theater complete with a massive screen, snack bar area, and seating enough for ten. "The theater room is one of our favorite places in our home," says Alexander, a former native of New Orleans who spends his days working in pharmaceutical sales, while his partner is an entrepreneur.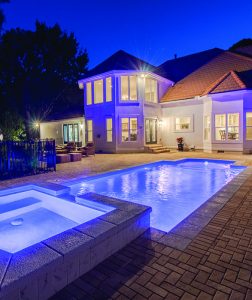 Making further changes by renovating the pool and backyard, the couple now have a home whose every inch is very much suited to their lifestyle and their style; and they have the perfect location to appreciate it all, set mere steps away from their private dock out on the lake and a view of the lush greenery of the fairway. "The location speaks for itself, as Burnt Pine is one of the premier neighborhoods in Northwest Florida and offers a true golf cart lifestyle that really appeals to us," says Alexander of why the home was such a find.
And whether they're hosting a dinner party for their nearest and dearest or simply relaxing after a hard day at work, this is truly a home that welcomes them in, one where they can appreciate life and all it has to offer, from one moment to the next.