"We believe that faith and time are required to restore lives and sustain recovery."
photos provided by Path of Grace  | story by Greg Alexander
Many of us drive by the Path of Grace Thrift Store in Miramar Beach daily.  Some of us have donated items there, some of us have shopped there, and lots of us have done both.  What we may not realize is the impact that Path of Grace is having on the lives of women and their families. The organization helps women find freedom from addiction and regain hope for healthier and more fulfilling livesthrough the faith based, long term, sober living, nonprofit residence program for women who are recovering from alcohol and/or drug abuse.The recovery home and thrift store work environment offer a structured, protected opportunity for women to grow in their recovery, rebuild relationships, recover personal confidence, and return to productive lifestyles.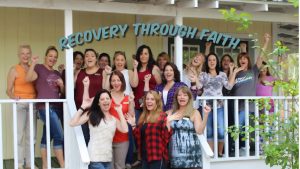 The highly structured, faith based 12 step program lasts from 12 to 24 months and teaches the women how to lead a life filled with self-respect, sincerity, and responsibility and enables them to deal with the challenges of daily life allowing them have a better life free of federal assistance or potential homelessness.  Alas, they incorporate a transition to work model in their program – which happens to be in their thrift store that funds the program.
Path of Grace is also investing in a savings plan for residents, which will be given to them upon graduation.  Its purpose is to give the residents a clean and fresh start after graduation.  This saving plan is also helpful in eliminating the financial pressures that can lead to a relapse.  Path of Grace believes their graduates should be well equipped with the skills and tools necessary for a fresh start.
Most recovery programs are costly and prohibitive for many women suffering with addictions.  Path of Grace offers a very affordable and successful alternative with a one-time fee of $800.  Residents receive treatment from a licensed therapist, along with Bible study and church services.  Upon graduating from the program, many of the women endeavor on paths to help others. Several have even been added to the staff at Path of Grace as their success has stimulated growth in the program.
Q & A with Eddie Mansfield, Managing Director – Path of Grace
What is the mission of Path of Grace?
Path of Grace's mission is to help women recover from the grips of drug and alcohol addiction.  We first aim to restore the lives of the women in the program, and then ensure the restoration of their relationships with their children and families. Path of Grace has been serving women who want to be free from drug and alcohol addiction for 10 years.
What sort of staff does Path of Grace have?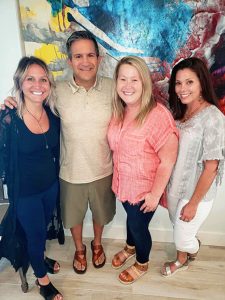 I have served as the Managing Director for eight years. Tiffany Gardner and Brandee Wilson each serve as Assistant Managing Directors. Both are Path of Grace Graduates. Kimber Givens acts as Supervisor of Homes and is a Path of Grace Graduate. Valerie Peterson is our Licensed Mental Health Counselor and Scarlett Horton carries out our Christian Counseling and Coaching program. Additionally, we have many volunteers involved in constructions jobs, as well as volunteer doctors and dentists that work with our program.
How is Path of Grace funded?
Path of Grace is funded by the thrift store sales along with financial contributions.  Our thrift store is located at 10962 US Hwy 98 in Miramar Beach, selling quality furniture, art, appliances, electronics, household goods, books, designer apparel, jewelry, and more. You can drop off at the store or we can facilitate a pick up. Your donations enable our mission and make our program possible.
What is your outreach, how do women find your services?
Path of Grace is currently helping 35 women achieve sobriety.  The program has a 100% success rate for women who graduate after 24 months in the program. The women that participate in the Path of Grace program work daily at the thrift store.
What impact has Path of Grace had on the community in the last year?
In the last year about 18 – 20 women have graduated the Path of Grace program and are now living alcohol/drug free.  Not only have these women's lives been liberated and empowered, but families have been restored too.  Approximately 20 – 24 children have been reunited with their mothers in the last year.
What is the most rewarding part of your involvement with the organization?
Everyday I see the difference this program is making in the lives of our residents, and their families as well.  Many women in the program are being led to Jesus Christ. That's the best!  There's nothing better than witnessing someone go from down and out, on drugs and alcohol, to blossoming and thriving in their walk with God! To me God is the key to their success.
How did you become involved with Path of Grace?
In November of 2010 I was asked to join the Board of Directors by the founder.  Then, later in 2012 I became more involved and started to help run the program.  I have experience in recovery and in retail.
What is one thing you want readers to know about Path of Grace?
Nothing is impossible with God.  No matter what challenges or what struggles you are facing, there is hope for you.  You don't have to fight the battle alone — reach out to an organization equipped to help you in the area where you are being defeated.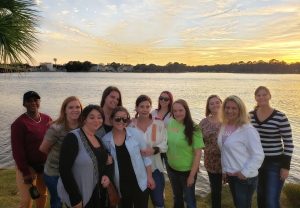 How can someone become involved or help the organization?
There are many ways someone can support and become involved with Path of Grace with the easiest being to contribute gently used furnishings, clothing, artwork, transportation, tools, toys, etc., to the thrift store.  Another way to show your support is to shop at our thrift store.  Purchases made at the thrift store help to cover the operating cost of the program.  Financial donations are an intricate part of the continued growth we experience at Path of Grace.  Donations can be made at our website PathofGrace.net.