Celebrate this Independence Day in true red, white, and blue fashion. Create the perfect outfit for fireworks, family BBQs, and shopping – no matter what July 4th occasion you're stepping out for, do it in style.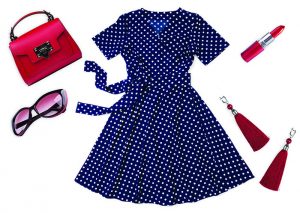 If you're in the mood to dress it up, choose a dress in a solid blue with a white print. Whether it's polka dots, stars, or stripes, this fun, classy combo will do the trick. Add some pops of red to seal the deal- earrings, a handbag, or even a bold shade of lipstick. Complete the look with a pair of white flats for a show-stopping ensemble.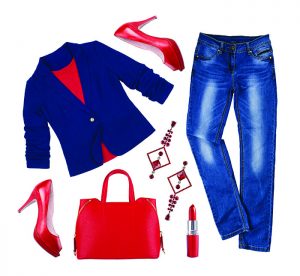 Now, if denim is your thing, grab your favorite pair of jeans, and dress them up or down depending on your patriotic plans. Try a blue three-quarter sleeve blazer with a red tank underneath. Finish accessorizing with red and white accents- don't forget the white sunglasses! For a more casual look, go for flats or sandals, and if you want to kick it up a notch try pumps.
Spending the day relaxing with family and friends? Keep it simple with a pair of white shorts and a solid blue or red top. Layer a few beaded bracelets to finish off the color trio, and boom- you're ready for sparks to fly. Or maybe your relaxing day is at home with popcorn and a movie- pull out those red, white, and blue tie-dyed pajamas and wear them proudly!
With so many combinations, it's easy to mix and match, creating the perfect look. So this 4th of July, make sure you're dressed for the show- in all its red, white, and blue glory!