By Liesel Schmidt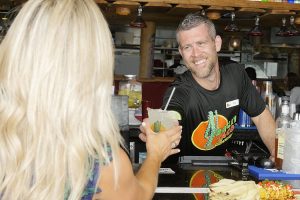 With its fresh, airy spaces and an abundance of massive windows with views overlooking the Gulf, when you walk into Rockin Tacos, the name is immediately apropos, as this place is a hotbed of energy, a constant bustle of fun and festivity brought to life in the glow of colorful Mexican Moravian-star lights and vibrant decorations. Set to the live music of a DJ and the beat of Mexican drums, this family-friendly taqueria doesn't merely sling out the run-of-the-mill, quote-un-quote "authentic" tacos so often found in chains across the country. ¡todo lo contrario!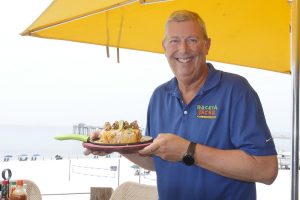 Here, they live up to their name and truly rock the tacos, making flour tortillas fresh from scratch each day using house made dough that's pressed through a tortilla machine and flipped until bubbly on a massive flat-top that grills more than 1,000 taco tortillas a day. And little wonder is it that they run through so many, as that fresh taste makes them all the more irresistible, all the more…authentic? And while that's certainly a point worth heralding, the fact remains that those tortillas are just one of the many ways that Chef Sixto Martinez keeps his kitchen creating fresh, vibrant food, making everything in-house from the sauces to the guacamole to the hand battered and fried gator bites that have gained them such wide acclaim.
Naturally, their tacos are a thing not to be missed, offering every type of protein you might imagine, from the famous fried gator to juicy, marinated shredded chicken; tender, slow-roasted pork; beer battered whitefish; grilled or blackened fish; plump golden fried shrimp; marinated skirt steak; and ground Angus beef. Each seasoned and topped with a unique blend of ingredients whose fresh flavor profiles sing with the tastes of Mexico, it's that unmistakable mix of herbs and spices, creaminess and acidity that fairly transports the taste buds to the coast of our neighbors south of the border.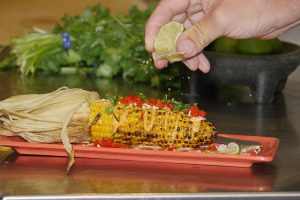 Much as they might easily take a siesta and simply rely on the success of their tacos, the rest of the menu is equally craveable, from starters like the fresh guacamole prepared fresh to order right at your table to their sweetly authentic Tres Leches cake. Looking for something unique to get you rockin? Order the Avocado Fries—fresh avocado slices seasoned and fried to a golden crisp and a cool, creamy center served with Chipotle Aioli and Cilantro Crema. Or bite into the Mexican Street Corn, a grilled corn on the cob slathered with Chipotle Aioli and topped with crumbled Queso Fresco, diced roasted red peppers, cilantro, and a squeeze of fresh lime. For dinner, try out a best seller like the Blackened Shrimp Burrito, a house made chipotle-seasoned flour tortilla packed with lightly blackened shrimp, rice, "Borracho" pinto beans, and Queso all wrapped up and served enchilada-style with house-made Ranchero Sauce, melted Monterey Jack cheese, Queso Fresco, and chopped red peppers.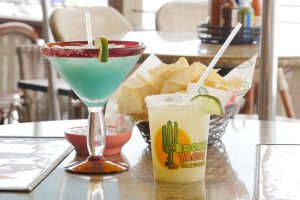 For those who love a good tequila, Rockin Tacos delivers, offering 75 different varieties as well as tasting flights that can be customized or poured on with the recommendations of the house. And as one might expect, the margaritas are a must, featuring signatures like the bright and citrusy Rockin Rita and the sweet-n-spicy Jalapeño Margarita. But whether you come just for the tacos or come for the entire experience, Rockin Tacos is sure to rock your senses with every last bite.
Rockin Tacos is located at 1450 Miracle Strip Pkwy., Fort Walton Beach, Florida 32548. Open daily 11:00 a.m.- 12:00 a.m. For more information, call (850) 226-8226 or visit www.rockintacos.com.
Rockin Tacos Gator Tacos

As featured on Travel Channel

(Yields about 4 tacos)

Ingredients:

1 lb. alligator meat (fresh, canned, or frozen)
1 cup buttermilk
1/4 cup Cajun spices, plus 1 tbsp. for Chipotle Aioli and 1 tbsp. for slaw
1 1/2 cup all purpose flour
1 1/2 cup course-ground corn meal
2 tbsp. salt
2 tbsp. pepper
1 head Napa cabbage (shredded)
2 green onion stems, chopped
1 cup canola oil, plus oil for frying
1 cup white vinegar
1/2 cup cilantro, chopped
1 cup mayonnaise
2 tablespoons of chopped chipotle peppers
1 tablespoon lemon juice
½ cup sour cream
4 flour or corn tortillas

Gator Taco Directions:

Using a sharp knife, cut gator into bite-size pieces. In a large bowl, stir together buttermilk and 1/4 cup Cajun spices. When mixed, add gator meat and cover, allowing to marinate in the refrigerator for 24 hours.

In a shallow pan, combine cornmeal, salt, pepper, and Cajun Spices to create a dredge. Dredge pre-marinated gator into the mixture. Meanwhile, coat the bottom of a large, deep pot with enough canola oil to reach halfway up the side.  Heat the oil to a temperature of 350° and fry coated gator pieces 4-5 minutes or until golden brown. Remove from oil with a slotted spoon and place on paper towels to drain excess grease.

Layer slaw onto each tortilla, then top with fried gator meat (5-6 pieces on each taco). Drizzle with Chipotle Aioli and top with diced green onions.

Slaw Directions:

In a large bowl, mix oil and vinegar until well combined. Add Napa cabbage and cilantro, tossing until fully coated.Marinate for minimum of 1 hour.

Chipotle Aioli Directions:

In a blender or food processor, add mayonnaise, chipotle peppers, lemon juice, sour cream, and 1 tablespoon Cajun spice. Blend until smooth.