Story by Courtney Murray

Clothing can create a mood. Clothing gives a first impression. Clothing is an expression of who you are. There are very few pieces of clothing that are truly timeless. What is a clothing item that women of every generation have in their closet? What can you wear to both a wedding and a funeral? Name an item that looks good on every body type? The answer is simple, the little black dress. Just the name evokes images of classic silhouettes and tailored ensembles. The little black dress, or "LBD" has evolved over the years, but has remained effortlessly chic throughout the decades. CoCo Chanel didn't invent the little black dress, but she is responsible for making it ubiquitous. In 1926 American Vogue published a drawing of a Chanel design, a classic elegant sheath in black crepe de Chine. The long narrow sleeves were offset with a simple strand of white pearls and just like that, a style uniform was born. Over the years everyone from actresses and royalty to models and first ladies have affected the trends and changes of the little black dress. Hemlines have risen and fallen, sleeves have gone from blousy and big to non-existent, but the timeless beauty of the little black dress has remained the same.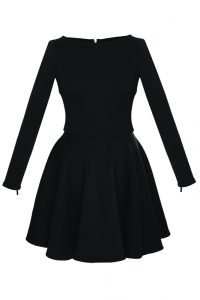 The little black dress has followed social cues over the course of time as well. In the 1940's during the war years the little black dress took a subdued approach with a simple, boxy and functional silhouette with squared shoulders as a nod to military uniforms. As the 40's came to a close, a new silhouette emerged inspired by Christian Dior's iconic look, tucked in waist with a full skirt. Dior dominated the 1950's as well by narrowing the full skirt and creating a sleek sheath. Celebrities like Marilyn Monroe brought sex appeal to the LBD, proving that this versatile dress can be both demure and alluring. But it was starlet Audrey Hepburn who was responsible for arguably the most famous little black dress moment in the film, Breakfast at Tiffany's.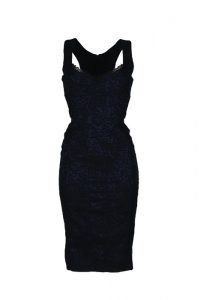 This stunning sheath dress designed by Hubert de Givenchy is as recognizable and re-created today as it was in 1961. The 1960's were an era of sex appeal and the short and shorter hemlines reflected this. First lady Jacqueline Kennedy Onassis, the epitome of class, brought more attention to the LBD and made a statement in
many different little black dress designs throughout the 1970's. The 1980's were all about excess and over the top styles and this was showcased at the House of Chanel under the direction of Karl Lagerfeld. Actress Elizabeth Hurley wore one of the most shocking takes on the LBD in 1994. Designer Gianni Versace created a bold and chic design with a twist of 1990's grunge; complete with a plunging neckline and oversized gold safety pins running down the sides. The 2000's brought about many extremes, from Madonna's sheer yet buttoned up Christian Dior ensemble in 2008 to the infamous very little strapless black dress worn by none other than Heidi Klum in 2010.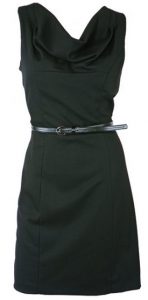 Probably the best thing about the little black dress is it's extreme versatility. This timeless piece of clothing can be worn by anyone to almost any occasion. The magic of the LBD is that even though the color remains the same, it manifests itself in a wide array of shapes and sizes. Although a little black dress is most often associated with a cocktail dress, it can also be a casual cotton swing dress or a luxurious beaded evening gown. A LBD can be worn in practically every profession, from a teacher, to a lawyer, to a stay at home mom, to a performer. There is something about a little black dress that makes the wearer exude confidence. Every woman needs at least one LBD hanging in her closet, and thank goodness, because it will never go out of style.