story by Greg Alexander
This summer, more than ever, many folks are staying home and hosting small porch parties and intimate, outdoor gatherings with close friends. One thing that always makes gatherings complete is a perfect cocktail. When it is an easy one with an exhilarating quench, both you and your guests will be winners.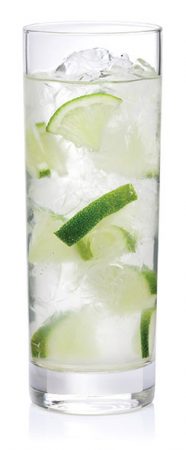 At the top of any cocktail lover's summer drink list should be the superbly refreshing Gin Rickey. A Gin Rickey is pretty much a "gin and soda" with a solid dose of lime juice. Since they are incredibly thirst-quenching, you can hydrate and get a good dose of vitamin C as a bonus. Gin Rickey's are easy to mix (and drink), while the low calorie and carb factor makes it an even more perfect cocktail. Most importantly, the gin is not covered up with other flavors, but enhanced by the citrus. I am not hating on any vodka soda lovers, but this cocktail is all about taste as the botanicals in the gin give it depth and variation, allowing you to enjoy some of the more subtle flavors in your gin of choice. Right now, I am crushing on Uncle Val's Botanical Gin that is even satisfying on the rocks. It has undertones of sage and juniper with a spicy lavender finish softened by coolness of cucumber, each providing their own individual sensations.
Like many, I had never had the pleasure of trying a Gin Rickey until recently attending one of those aforementioned porch parties. My host, Brad, who is a retina surgeon by profession, spent some time behind a bar during his formative years (and a lot on the other side of it, too). When he offered a slew of concoctions from his patio bar, the Gin Rickey being one, I asked what was in it and he just said, "Let me show you." It was the perfect answer to the gentle summer evening, and I have easily repeated that recipe many times since then, and just as my friend expressed, fresh lime juice is key.
The Gin Rickey is one of the few classic cocktails whose origin isn't muddled by history as it was named after Joe Rickey, a late 19th century lobbyist who lived in Washington, D.C. Rickey instructed a local bartender to build a Bourbon Rickey, and with that, a proud line of cocktails was born. Soon, people were customizing the drink to their liking with the Gin Rickey eventually becoming the most popular of all Rickeys.
With the hot, muggy weather, it is naturally fitting to explore this classic summertime cooler to end your day with a highball glass in hand. Every year as the mercury rises, this gentle concoction will satisfy even those who declare they don't like gin.
MAKES 1 DRINK

Ingredients

• 1 1/2 – 2 oz gin of choice (I am currently fond of Uncle Val's Botanical)

• Juice of ½ a lime

• 4-6 oz carbonated water (Go with a mineral water for more flavor than a seltzer.

I am currently loving Topo Chico)

Directions

Fill a tall glass with ice. Seriously, fill it all the way. The more ice, the quicker the chill down and the less dilution overall. Using less ice will just give you a not-that-cold, watered down tasting drink.

Pour the gin and lime juice over the ice and give it a stir. Top with your carbonated water of choice, stir gently, and enjoy!

Garnish with a lime wheel and mint or other herbs that compliment your gin, if desired.