By Mary Aho
Forget everything you thought you knew about champagne. There is a new fun and casual way to enjoy everyone's favorite celebration drink. Moët & Chandon, a French fine winery, released an ice champagne back in 2011, which just became popular in the past few years. Now, several other companies have released their own iced sparkling wines.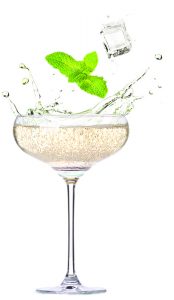 Although Moët & Chandon was the first to introduce ice champagne, almost every brand has their own version on the market. Some have also recently released rose versions of this iced treat. Bottles range from twelve to sixty dollars and can be found in most wine sections. Bottles are wrapped in white or frosted labels, so they are easy to spot.
There are a couple of tips when it comes to enjoying champagne on ice. First, always use a wide glass. Not only does this allow you to smell your beverage, enhancing the taste, it leaves plenty of room for the ice. You should use three large ice cubes. While you want to chill the drink, you don't want to water it down. Adding garnishes gives you an instant cocktail. Fresh fruit, mint, or juices are just a few ways to add to your beverage, making it a special treat.

Over the past few years all types of drinks and food bars have become all of the rage. A mimosa bar is a fun simple way to have a variety of drinks at your wedding or party. Grab several bottles of ice champagne. Have an assortment of fresh fruit, candies, syrups, juices, and of course, ice! Finish the table with glasses and cocktail napkins and you're set.
Since you don't have to chill your bottle in advance, iced champagne is the perfect last-minute way to celebrate. This makes it an ideal drink for wedding season all the way from taking it with you to pick out your dress to the toasts at your reception. When it comes to weddings, there are a million reasons to pop a bottle.
Ice champagne is great year-round, now you can enjoy a bottle of champagne during spring and summer. Mimosas on the beach? Yes, please! Boating will be a whole new experience. Picnics at the park and girl's night out just got so much better; and don't forget about Sunday Funday. Now you can celebrate and enjoy any event last minute. No matter what your celebration, ice champagne is the perfect libation.
So, whether you're celebrating a wedding or hitting the beach, grab a few bottles of ice champagne. Not having to chill them makes them easy to store and have on hand for all your celebration needs. With your new go-to bubbly, and ideas to spruce it up, you can celebrate in style.