photos provided by The Secret Place | story by Greg Alexander
In an undisclosed location in the Greater Emerald Coast Area stands 10 acres of land that has been developed into a community that is transforming young girls who have been victimized by human trafficking. Most appropriately monikered The Secret Place, it is a home of refuge and hope for girls ages 12 to 17. At The Secret Place, healing takes place over time while dignity is carefully restored through a process with trained counselors and caregivers. Necessary medical and clinical services are provided for the residents and they are enabled to further their education and dream of a bright and healthy future. At The Secret Place, these victims are allowed to recapture their purpose and God given identity.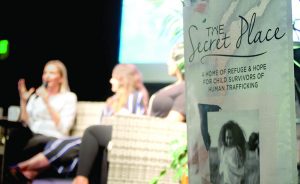 The Secret Place is a faith based, state licensed program through a partnership with the Department of Children and Families. Residents will participate in the program for 7-9 months, before returning to their biological family or being placed with a specialized therapeutic foster family, to continue their journey of healing.
Human trafficking is defined as the recruitment, transportation, transfer, harboring, or receipt of persons by improper means such as force, abduction, fraud, or coercion for an improper purpose including forced labor or sexual exploitation.
A minor of sex trafficking is someone subjected to the recruitment, harboring, transportation, provision, or obtaining of a person for the purposes of a commercial sex act, in which the person induced to perform such an act has not attained 18 years of age.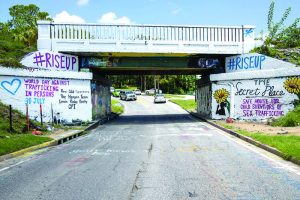 Child victims of human trafficking are forced, induced, or coerced into providing labor, services, or commercial sex. A trafficked child may be compelled to engage in illegal activities such as prostitution or the selling of drugs.  Most often, Instead of being treated as victims, they are treated as criminals and are prosecuted accordingly. Arrest and prosecution can further traumatize victims and leave them with an ongoing distrust of law enforcement, which often prevents victims from seeking assistance. Additionally, the criminal record that results from being prosecuted can become a barrier for future employment and other opportunities. Thus, it is necessary for states to enact laws that both protect and assist children that have been exploited for labor or sex. The laws that provide this type of protection are called safe harbor laws.
Children are fortunate to have organizations like The Secret Place take them in and give them a re-start from circumstances that were mostly out of their control. Please visit thesecretplace.org for more information about their services and for ways in which you can help this vital resource for victimized children.
Interview with Kristin Lipscomb
Founder and President – The Secret Place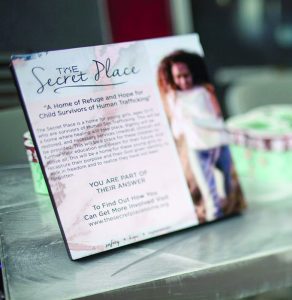 What is the mission of A Secret Place and how long has it been serving young girls in our area?
The Secret Place was founded in 2018 with its mission to bring hope and healing to survivors of human trafficking. The Secret Place has three focuses:
• State Licensed Safe House Residential Program which includes a 7-9 Month live-in program; medical, dental, and vision services; individual and group counseling; continued education; life-skills, art, music, community garden, and sports environments; and survivor mentorship.
• Outpatient counseling & wrap around services
• Prevention and Training.
What is the most rewarding part of your involvement with the organization?
The most rewarding part of leading this organization is knowing that a child's life can be dramatically altered for the good — that children are learning that they have a choice for their future. Knowing that these young ladies can begin to walk in freedom and to realize they have not been forgotten is a further point that provides me excitement about the work we are doing at The Secret Place.
What sort of structure exists, or is it individualized for each child?
Every therapeutic plan is individualized as every individual's journey is different. 70% of the children we work with are in and out of foster care so we work closely with the Department of Children and Families, lead agencies, as well as the client's community to establish the best plan.
How do you connect with your prospective residents, do they all live onsite?
Residents that need safe harbor live onsite at the safehouse.
How is the program funded?
The program is funded by donations, state reimbursements, and grants.
What size of staff exists?
Currently we have 12 staff members and several lead volunteers who oversee outreach and volunteer initiatives .
Are there volunteers?
We have over 400 trained Volunteer Advocates.
Is there a success story you can share?
Every milestone is a success story for us as these survivors continue on their path toward healing and restoration. One special milestone was a survivor who we walked with and established a recovery plan, who is now in nursing school.
What is one thing you want readers to know about A Secret Place?
The Secret Place is here to be a survivor's answer. We are committed to doing our part to see dignity restored and dreams recovered for every survivor we come into contact with.
How can someone help your cause?
Become a Volunteer Advocate. Become a Financial Partner.