Story by Liesel Schmidt
Photos by Jen Deeb/Brand U Solutions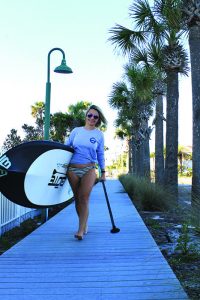 Water activities can be an expensive hobby to pursue, which often puts them out of the realm of possibility for many people. Add to that the cost of buying and maintaining the equipment, the hassle of storing it, and lugging it from Point A to Point B, and you have the perfect formula for sinking those dreams of becoming an avid water-sports enthusiast faster than a deflated dingy weighted down with a rock.
For people like couples Ray Proffitt and his girlfriend Elena Bochkareva and husband-and-wife team Jake and Steph Maurer, however, those obstacles were an inspiration. And combined with their own passions for all things water related, simple inspiration gave rise to a business concept centered on offering every type of water activity to those who might otherwise never experience the thrill for themselves.
Splashing onto the scene in the summer of 2017, Wet, Inc., has begun carving out a niche for itself and its unique offerings, providing a combination of beachside services as well as equipment rentals for paddle boarding, surfing, and kayaks; guided tours of the area's best waters; high performance and casual apparel; and premium outdoor accessories. "In opening Wet, our main goal was to give locals and visitors alike the opportunity to experience a side of Destin that they may not usually get to see without breaking the bank," says Jake, whose own love of water activities began at a very early age when his family came to Holiday Isle on vacations from St. Louis. "Whether that's paddling in the Harbor, heading out to Crab Island, or looking for dolphins in the Gulf off the beach, it's such a unique experience; and I love providing people with access to that."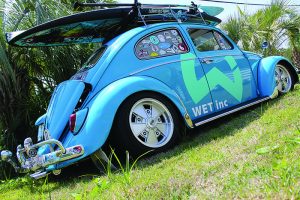 And Wet is nothing if not a point of access, as their list of services includes everything from free delivery of rented boards and kayaks to the Eco Glow Paddle Board tours for which they have become known. "Wet is more than a company—it's a lifestyle. We care about our customers and hope that they come back to us every time they're here," says Profitt, an avid paddle boarder who fell in love with Destin after moving to the area as a military contractor in 2015. "I've always been interested in water activities, and my home in Knoxville, Tennessee, was on the river where I fished, paddle boarded, and swam. I've lived near the water my entire life because I love it so much," he goes on. "Personally speaking, water sports like paddle boarding have provided me with a means to stay active even after suffering multiple spinal injuries from competitive motorcycle racing injuries that made pain a daily struggle and resulted in surgeries. Paddle boarding gave me a new way to enjoy being active, and it's really helped me form a greater connection to myself and to the water."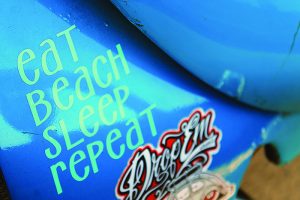 More than anything else, the team at Wet has a mission to give their clients the basis they need for growing a love for the water, whether those clients have never gotten deeper than their ankles or are long-time SUP pros. Anything and everything they could need is at their disposal, as are the lessons they might be seeking for building their skills and comfort level out on the waves. "Our clients can always count on us to be on time, professional, and helpful," says manager Bochkareva. "If you want to try paddle boarding or kayaking and have never done it before, we're here to help get you started." And speaking of getting started, plans for paddleboard yoga and flowing SUP yoga are in the works to be launched on their weekly calendar of activities in the next few months.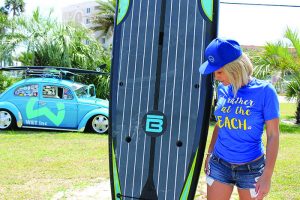 "We're attempting to put a new spin and a new vitality into the industry, and our clients can expect that when they come to Wet, we're completely motivated to give them the best experience and to learn with them," adds Proffitt. "Our hope is that people will find ways of incorporating water sports and activities into their daily lifestyle."
"We're building ourselves as a brand whose passion is a lifestyle lives on the water," Bochkareva continues. "The name Wet is an expression of having fun on the water: Focusing on water activities, athletic adventures, and even the relaxation of interacting with water. Our world is all connected by that main element of water, and that's such a unique force of unity that we want people to explore in new ways."
So be adventurous, dive in, and get wet—these guys have you covered.
Wet, Inc., is located at 200 Industrial Park, Unit D, Destin, Florida 32541. For more information, call (850) 974-0134 or visit www.wetdestin.com.