Story by Courtney Murray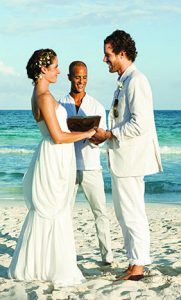 Your wedding day is one of the most important days of your life. As the years go by, weddings have become increasingly extravagant and the price tag just continues to go up and up. However, there is a new trend that is headed in the opposite direction. Tiny weddings. Instead of spending a small fortune on your nuptials, many young people are choosing to save that money and form a nest egg for their future. They are forgoing the usual traditions and trappings that the wedding industry has convinced couples they "need" and they are blazing the trail towards scaled down weddings. If stressing over the perfect seating arrangement and choosing passed hors d'oeuvres that fit into everyone's gluten free/lactose intolerant/vegan dietary needs doesn't sound like your style, a tiny wedding might be just what you are searching for. You don't need to sacrifice your dream wedding when trimming down your budget; instead focus on the key elements that mean the most to you and your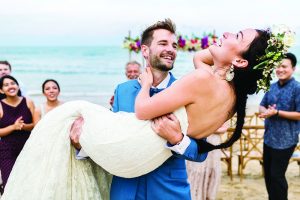 significant other. By streamlining your wedding budget you can have what you are most passionate about be the focal point. Have your dress be the star of the show if you are a fashionista, you can hire the artistic photographer you've been following on Instagram for years, or if you live and breathe food and Chopped is always on at your house, you can have a sit-down gourmet 4-course dinner. These are the specialty options you have if you only have 30 guests instead of 300.
Many couples who are focusing on what will create an intimate and special experience on their wedding day turn to DIY. 15 years ago a young bride would be cutting out photos from bridal magazines and saving articles for her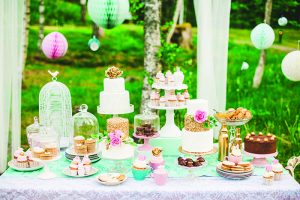 scrapbook. In today's Pinterest age, there are limitless ideas just a click away. Couples are bonding over making their own floral arrangements and favors. Backyard chic weddings are on the up rise as well. When you bring in some long farm tables and hang some twinkling market lights, it's magical to dine and dance with your friends and families under the stars. Micro-style weddings aren't only changing the way people get married, it's changing the whole wedding industry. Venues are now having to adjust to the concept of smaller scale weddings to accommodate couples with this vision. Some venues are providing all-inclusive wedding packages that give couples the necessities without all of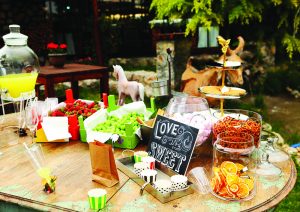 the extra accoutrements. A traditional wedding can be stressful to plan on top of using a lot of your time, money and energy. Which is leading a lot of brides towards choosing a more simple approach that celebrates what matters the most; your love for one another. Some other things that come along with a tiny wedding are fewer guests, a smaller budget, more flexibility and creativity. There are even companies who can make your wedding dreams come true in just a few days with a pop up wedding. So if you are ready to shed the typical trappings of an extravagant wedding, try going tiny!