by Liesel Schmidt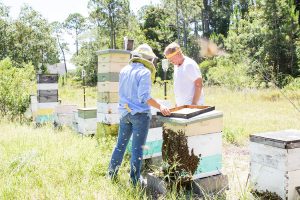 While we could easily relegate it to a role as a simple sweetener, there's a far greater complexity to the thick liquid gold that glistens from so many little bear-shaped bottles found in the pantries of home kitchens all across the country. And as its long use in health remedies and beauty treatments for thousands of years handily proves, that golden color could well be considered significant, so highly is it sought as a foundational component for cleaner and healthier living.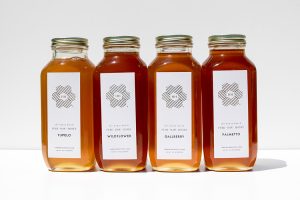 "As something that is truly organic and has been provided to us by nature, honey benefits us in many different ways," says Amy Wright, founder and owner of The Honey Hutch, a third-generation beekeeper whose passion for bees first took flight at the age of nine. "It has naturally anti-bacterial properties and is anti-fungal; is a known preventative for cancer and heart disease; has been shown to increase athletic performance; helps soothethroat irritation; helps heal cuts, scrapes, and burns; is a natural probiotic; is great for local allergies; and is great for the skin," she enumerates, though she could certainly rattle off more, given the time.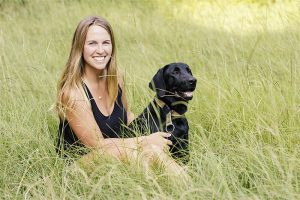 Such benefits are the very basis of her business at The Honey Hutch, giving rise to products including soaps, lotions, candles, lip-balms, and—of course—the honey itself, which she bottles at her very own "hive" in Santa Rosa Beach. Using the nectar of flowers including wildflowers, gallberry plants, orange blossoms, and white tupelos, the honeys harvested at The Honey Hutch are kept pure and raw rather than being heated at a high temperature or filtered to "refine" them. Such purity preserves their integrity and maintains the height of their benefits instead of stripping away the very things that make them so buzz worthy.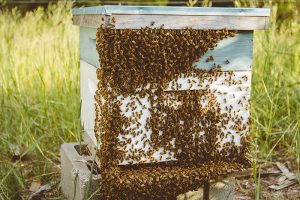 Having officially launched in the summer of 2013, The Honey Hutch is pollenating its way across the Emerald Coast and beyond, gracing the pages of O Magazineas one of Oprah's Favorite Things and sweetening up the lives of people across the nation through its online marketplace. But home-based consumers aren't the only ones loving what Wright is selling, and she's become the local "honey" of such restaurants and bars as Another Broken Egg Cafe, Amavida Coffee & Tea, Beach Walk Cafe, Black Bear Bread Company, Big Bad Breakfast, Boshamps, Brotulas, Camille's, Craft Bar, Cuvee, Destin Brewery, Donut Hole, Emeril's, Everkrisp, Jackacuda's, La Paz, Marlin Grill, Sunset Bay Cafe, and The Pearl to sweeten up their dishes and signature cocktails.
Such high demand naturally requires a high level of productivity, and her winged wonders have certainly risen to the challenge. Utilizing the studiousness of anywhere from 20,000-80,000 bees in each of her 100 hives—you do the math—The Honey Hutch is a veritable hive of efficiency, yielding enough honey and wax to keep up with the orders she has streaming in.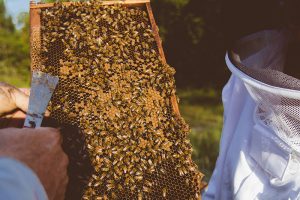 For Wright, The Honey Hutch is more than just a business—it truly is a passion, and one that runs in her veins. Having grown up amongst the bees, she sees them not simply as an insect to be taken for granted, but as beautiful creatures essential to life on this planet, so crucial are they in the work that they do. That passion and appreciation shinesthrough in her work, making her successful in her mission to provide a superior product that her customers can trust. "Really, I'm successful because I love what I do, but I also BEElieve in what I do!" she laughs, unable to resist the pun. A creative who obviously doesn't mind getting her hands sticky or risking the odd sting or two, Wright is the embodiment of just what really believing in your work can do—and that's a sweet, sweet thing, indeed.
To learn more about The Honey Hutch, online ordering, and where to find their products, visit www.thehoneyhutch.com or call (850) 499-6258.
The Bee Kiss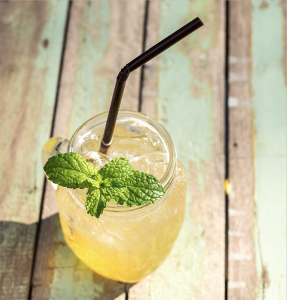 Ingredients:
Club soda or ginger beer
1.5 oz. vodka 
1 tbsp. Honey Hutch Honey 
2 wedges fresh lime 
Lime leaves
3-4 leaves fresh mint
Ice
Directions:
In a cocktail shaker, muddle together honey, mint leaves, lime wedges, and lime leaves. Add ice and vodka, shaking until well mixed. Strain into a tall glass, then fill to the rim with club soda or ginger beer. Stir together and enjoy!